Last Updated on 9 months by soonxindisplay
Before starting today's topic, please start thinking about this question: From when customers walk into your store to when they buy their favorite product and leave (or leave your store without buying), what measures have you taken to stimulate them to make other purchases? What about "small tricks" for behavior?
Retail Merchandising Tips are the most effective; however, it's also one of the least understood, especially for first-time store owners.
Good Merchandising Tips have helped various businesses succeed in the digital age and break through the impossible driving force. Lead to a significant impact on buying behavior, but do you know where the retail store layout and design come from?
Without further ado, let's get started.
Color is King as one of Merchandising Tips
Color is an important attribute, depending on what kind of products you sell. Color is powerful, and it can make or break your visual displays. A retailer might create an erratic collection, but the show can still succeed if the colors coordinate well. Consider using contrasting colors, like black and white, and monochromatic colors–both create intriguing, eye-catching displays.
Too often, we lose sight of the power of color and its ability to attract the eye. Consider your home. You probably have a solid grey or brown couch, but there is a "pop" of color from the throw pillows you place on the edges. It is the same principle.
From the store's perspective, several main tips of color techniques were added to Merchandising Tips.
Tips:
Adopt your brand's signature colors in a display to make your product immediately recognizable.
Know the three color schemes: monochromatic, analogous, and complementary.
Pick bright colors to grab attention.
Remember, color is an accent; don't let it overshadow your merchandise.
Floor Plan Merchandising Tips
Your floor plan plays a critical role in managing store flow and traffic. The choice of which one is right for you will depend on several tours, including the size of your store, the products that sell, and, more importantly, your target market.
Styles of Retail Floor Plan
Retail Floor Plan
Best For
Grid Floor Plan
Used in grocery, big box, and convenience stores
Shelf-stocked goods such as books, toys, specialty foods, hardware, and homewares
Loop Floor Plans
Maximize wall space and lead shoppers along a set pathway
Apparel, accessories, toy, homewares, kitchenware, personal care, and specialty retail stores
Free-Flow Floor Plans
Used in specialty and boutique settings
Apparel, accessory, personal care, specialty brand, and mixed-use stores like bakeries that also display packaged goods
Diagonal Floor Plans
Maximize employee visibility in retail stores with lots of product testing
Self-serve kiosks, tech, electronic stores, and beauty and cosmetic retailers
Forced-path Floor Plans
Customers are guided through a predetermined path and exposed to every product
Furniture stores, home decor, experiential retail stores, and showrooms
Angular Floor Plans
Showcase curated or edited inventories in designer or specialty shops
Designers, artisans, high-end apparel and accessories retailers, and curated or limited collections
Part Examples like below
Grid Floor Plan
The first – your grid store layout – is also the most traditional design, as it's used mainly through supermarkets, pharmacies, and off-price retailers.
As for how your store would look with this layout, your retail fixtures are placed in long rows, otherwise known as 'runs.' They're also usually located at right angles throughout your store, which allows your customers to become familiar with where your products are placed.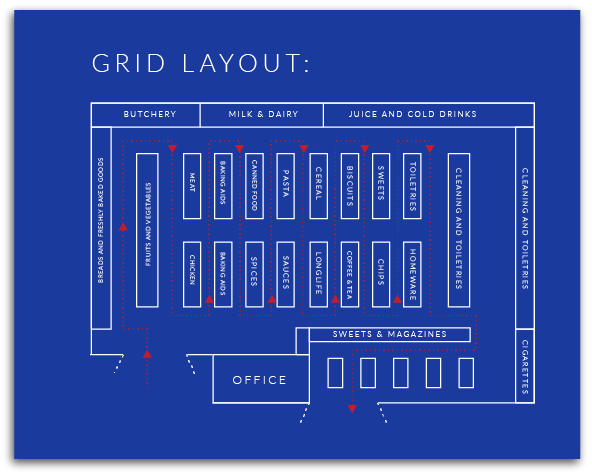 When done correctly, it allows your customer to shop your entire store.
Advantages:
Your store is well organised and has an atmosphere of efficiency, which leads to customer familiarity.
The maximum amount of floor space is used at a lower cost.
It's easier for merchandisers to stock your shelves.
Disadvantages:
The many rows in your store can give off a cold and sterile atmosphere while it's also difficult to see over your rows.
There are few opportunities for special displays, and your store can appear plain and uninteresting to your customers.
This layout can stimulate rushed shopping behaviour.
Loop Floor Plan
This layout encourages customers to "loop" your store. You position your fixtures and merchandise to create a path to guide that guides shoppers around your shop.
Angular Floor Plan
This store layout has curves and angles to give off a sophisticated vibe. According to the Houston Chronicle, the angular floor plan is usually adopted by high-end retailers, and it "reduces the amount of display area you have but focuses instead on fewer, more popular lines."
Free flow plan
A free-flow layout affords you the most creativity. You're not limited to floor patterns or shelves that must be placed at certain angles. And unlike the other forms, you're not prodding people to use a path around your store; shoppers are encouraged to browse and go in any direction.
Remember, your retail store layout guides product placement, directs customer flow, and defines your store's overall look and feel, so it deserves plenty of thought.
Complementary Products
As one of the critical Merchandising Tips, the most common complementary product placement pairing is the most valuable pairing for consumers. Matching helps ease the journey of consumers throughout the shopping process. Combining complementary products allows users to find what they want without walking around the store.
Complementary product placements that most consumers are familiar with include:
Peanut butter and jelly-usually placed next to each other or on a shelf above or below.
Cereals and milk-usually placed parallel to each other.
Salty snacks and drinks-most likely to be found in the same aisle.
Excellent salads and seasonings – usually placed next to each other in the fresh produce area.
Pre-cut vegetables-When paired together, consumers often buy more vegetables because they can collect everything to make an instant salad.
Be aware of where you "lead" shoppers
There's much debate about whether retailers should lead customers clockwise or counterclockwise inside their stores.
On the one hand, some claim that since most people are right-handed, they instinctively turn to the right and explore the store counterclockwise.
However, other studies indicate that shopper direction has more to do with vehicle traffic patterns. For instance, consumers in the UK and Australia drive on the left side of the road, so they tend to explore stores clockwise, while consumers from right-hand driving countries like the US usually turn right when they enter a shop.
So which shopping direction theory should you believe? It looks like there is more substantial evidence supporting the idea of driving behavior. As Herb Sorensen, author of inside the mind of the Shopper, noted:
The pattern of movement in the supermarket is counterclockwise in the United States. Still, PathTracker studies in the UK, Australia, and Japan show a much greater tendency for shoppers to move in a clockwise pattern there… traffic patterns in the store may also be affected by vehicle traffic patterns outside. In these small studies, we noted that in countries with right-hand driving, where traffic circles move clockwise, shoppers in stores might be more comfortable moving in the same direction.
Our recommendation? Test out the theory for yourself. If you find that your customers follow the country's vehicle patterns, you'll know where to place new arrivals and other inviting elements.
Developing Creative Ways to Cross Merchandise
Cross-merchandising tips are subtle but effective ways to increase basket sizes and order values. The practice promotes product discovery and entices shoppers to look at items that complement what they already buy.
There are several ways to implement cross-merchandising tips. One is to merchandise items that go together. You could, for example, create a display with a blouse, jacket, and matching purse. More ideas like:
Products from different categories are displayed together in one place.
Informing the customer of the various options that could complement their product.
Improving the consumer's shopping experience and saving them time.
Jim Hertel, SVP at Winston-Salem, N.C.-based Inmar Analytics, believes that the value of effective cross-merchandising strategies goes beyond simply building baskets and traffic. He's convinced that it's necessary for a store's positioning in an ever-crowded marketplace where younger consumers seek an experiential shopping environment.
Other examples of creative and practical cross-merchandising tips include:
Rochester, N.Y.-based Wegmans Food Markets' table in the produce department features chopped bagged escarole and canned white beans for a vegetarian dinner.
Guido's Fresh Marketplace, a specialty supermarket with two locations in Berkshire County, Mass., creates an eye-catching display of imported pasta and sauces near a self-serve antipasto bar.
Feed the Senses
What's in it for customers? Tell them. Use powerful, sales-enabling signage to display the advantages of buying the product. Present three bullet points that tell customers why they need the product or how their life will become more accessible because of the product. Remember, you're not writing an essay but a headline, strong bullet points, and possibly a price proposition. By telling a story, you help the customer better understand the product and enable the buying decision.
A display may lack a worded sign or an educational sign. That's perfectly fine; the character can speak for itself if there's still a story. For example, lifestyle graphics are trendy in telling the story. No words, but the image speaks volumes. If you need to learn more about the Poster Graphic design for the store, click HERE for more.
Freshen up your displays regularly
Organize store shelves to make them more appealing to consumers. Built-in photo reports, barcode product searches, and automated data entry are the essential tools designed to control the product's location, the number of facings, and prices and ensure no gaps between products on the shelf.
Some retailers might change their displays as often as once a week. In extreme cases, some would even suggest changing exhibitions once a day. During the holiday season, for example, you'll want to keep your shows as fresh and exciting as possible to convey timely promotions and capitalize on the gift-giving frenzy.
Primarily, you should consider changing your display if you've noticed that sales had dropped significantly compared to when it was first rolled out. Other signs it's time to refresh your display include:
Your display is damaged.
Your brand has changed.
New products don't fit the old display.
You're refreshing the entire store environment.
Use Empty Space Wisely
There's a space in all retail stores that is the most underutilized. It's the section between the displayed merchandise and the ceiling. If this space in your store is empty, you need to start using it.
You can use this space for many things, like signage providing information about products or brands. You can also display customer testimonials with the customer's name and a picture or profile of a designer or supplier.
You could also display a lifestyle image that helps customers make associations with your products. For example, a furniture store could show a photo of a family cozied up on a couch, emitting those warm, fuzzy feelings that put shoppers in a good mood. A jewelry store could display a woman wearing a bracelet at a fine dining restaurant, creating an association between the store's jewelry and a luxurious lifestyle. It helps do excellent Merchandising Tips. And if you need to learn more about some displays, fill the Space with Custom shapes and sizes. Please click here to check more.
Track and measure your efforts to Merchandising Tips
Don't forget that your staff also plays a role in your store's design and merchandising tips. How they are positioned in your shop can make or break your store's appeal. Having your employees move around on the sales floor instead of behind the counter is an excellent way to make the place more inviting.
Last not but not least, always ask whether or not you're making the right floor plan, design, or arrangement decisions. This is critical to ensure you're implementing the best strategies possible.
You and your staff should observe how people behave in your store. Please pay attention to where they go, where they linger, and what they do while they're inside. Also, ask what they think of your shop and what you can do to improve. Other aspects can consider the convenience of the digital age to add more Merchandising Tips.