Metal Floor Standing Hat Rack | Cap Display | Storage & Organization
Soonxin is always a quality display stand supplier for many retailers. You can wholesale various styles of metal floor-standing multi-layer hat display racks from us. The high precision welding gives these racks a great weight capacity and won't get out of shape easily; they are sturdy and durable. By organizing multiple stands, you can place more products on display.
Except for the traditional types, some modern-style rotatable hat trees are also popular. Although they place fewer hats, every item can be shown better through each height and angle adjustable branch. These hat trees also take lesser space. More importantly, you can add universal wheels at the base to conveniently set your promotion site.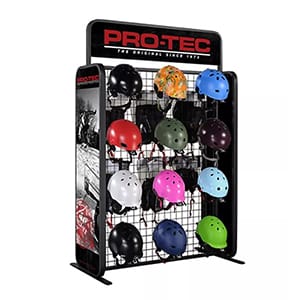 4 Rows Helmet Display Case
47.2″ L x 15.8″ W x 50″ H
Heavy-duty 2 Sided 12 Layers Hat Retail Tower
20″ L x 20″ W x 50″ H
Floor Standing 12 Layers Cap Display Tower
20″ L x 14″ W x 50″ H
5 Layer Rotatable Cap Holder Tower
20″ L x 20″ W x 51″ H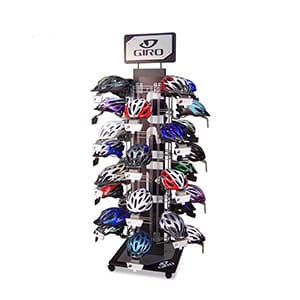 Heavy-duty Floor Standing Bicycle Helmet Rack
20″ L x 20″ W x 49″ H
Simple Floor Standing Cap Retail Rack
25″ L x 18″ W x 47″ H
7 Layers 4 Sides Cap Display Stand
22″ L x 22″ W x 52″ H
Double Sided 12 Layers Floor Standing Hat Tower
20″ L x 14″ W x 50″ H
Rotatable Cap Display Tower With Universal Wheels
20″ L x 20″ W x 51″ H
5 Layers Cap Shelf With Universal Wheels
32″ L x 20″ W x 50″ H
Matte Metal 2 Columns Hat Display Shelf
14″ W x 48″ H
Modern Style Baseball Cap Stand
20″ L x 20″ W x 50″ H
Features
You may also be interested in
Send Your Required Now!
Or