Custom Acrylic Logo Blocks And Brand Signs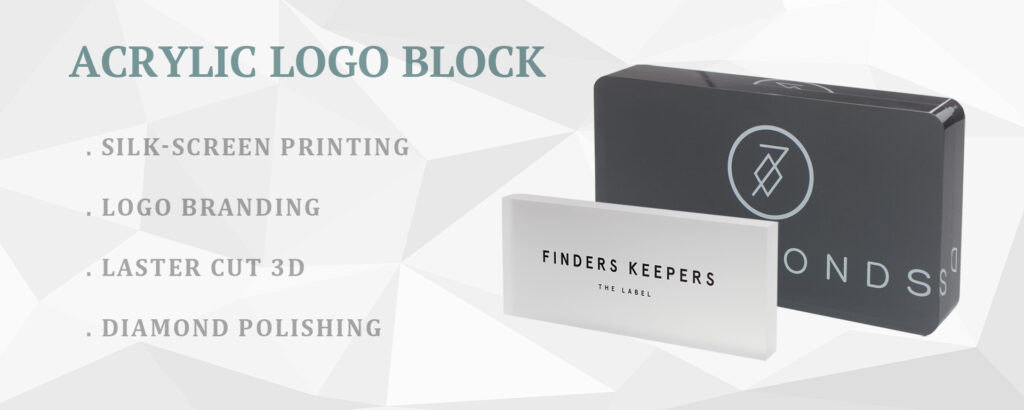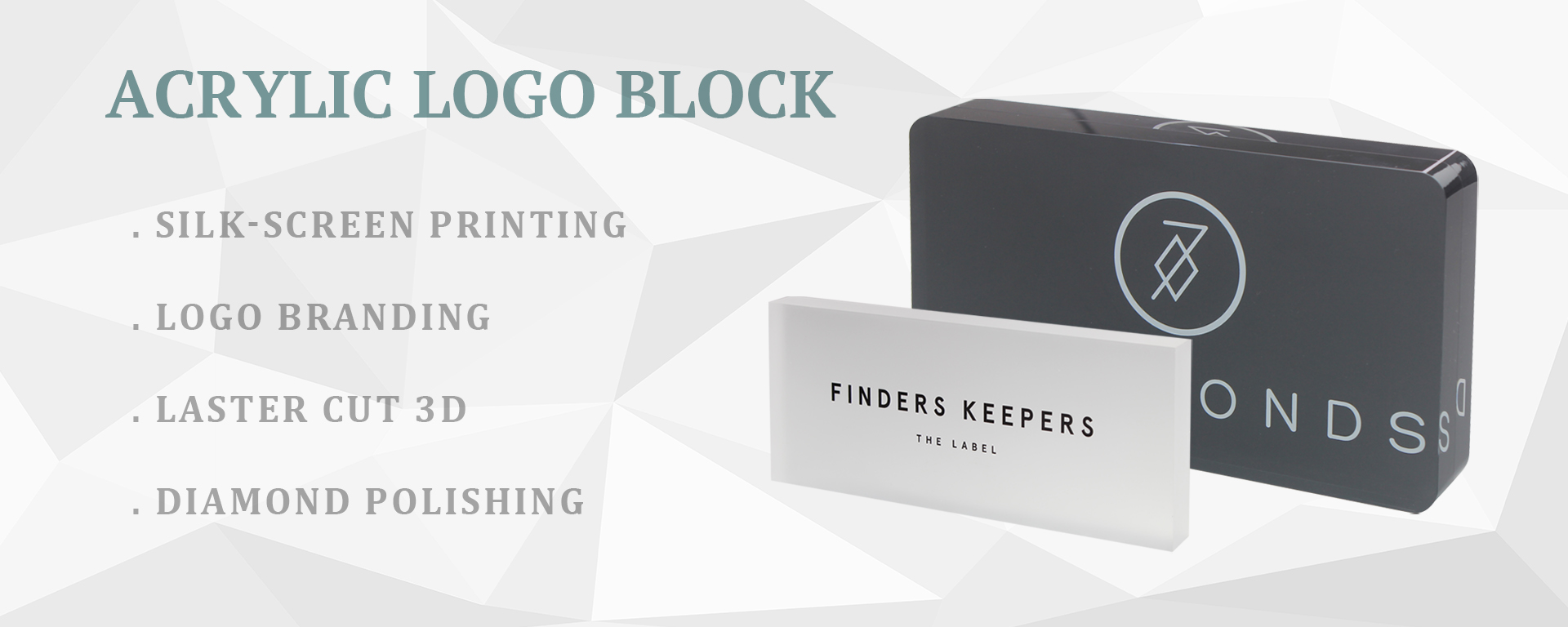 An acrylic logo block is a solid block made of clear, frosted, or colored acrylic. It has widely used, typically for displaying the logo of a company, organization, or some person. It can also take as a promotional product, award, recognition, or decoration of offices and stores.
The clear, polished surface of an acrylic block gives the logo a crisp appearance, which helps enhance your brand's perceived value. This is particularly important in industries such as finance or law, where professionalism and attention to detail are highly valued. As a supplier of superior display fixtures, all acrylic logo blocks manufactured by Soonxin are made from high-quality materials. Transparent, inclusion-free, delicate cutting and engraving, without fuzz edge; all these features better show your company's professional and artistic taste.
Different from other materials like glass and ceramics, acrylic is recyclable and can be remade into other products. It can help businesses to reduce their carbon footprint and contribute to a more sustainable future.
Acrylic Logo Block Features
A sleek and modern way to display a brand logo
Improve your brand value
The transparent body can get a fantastic view during display with lighting
Versatile in size and style
The color, style, and printing can be customized to match your brand
Durable and resistant to shattering
Easy to clean and maintain
Low cost, a more favorable price in a bulk purchase
Environmentally friendly and recyclable
Acrylic Logo Blocks Sorted By Shapes
Acrylic has excellent plasticity so it can be processed into various shapes. It can also be CNC cut out your brand logo directly, they look 3D, you can stand them on the desk, or mount them on the wall as a sign.
Cubes
Frosted Acrylic Block With Brand Logo
7″ L x 2″ W x 0.8″ D
Single Color Printed Rectangle Acrylic Block
10″ L x 2″ W x 1″ D 
Square Black Acrylic Block With Gold Logo Printed
10″ L x 7.8″ W x 0.8″ D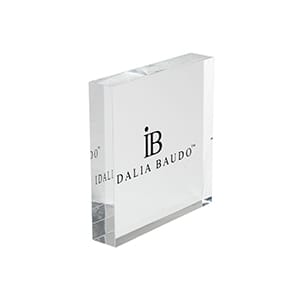 Square Frosted Acrylic Logo Block
4″ L x 4″ W x 0.75″ D
Circular Cylinders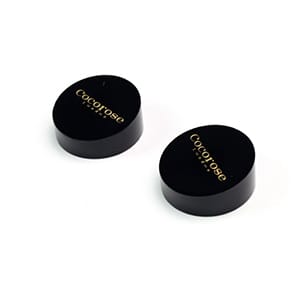 Small Black Acrylic Logo Cylinder
Diameter: 0.75″, Slope: 0.4″-0.8″
Small Clear Acrylic Brand Logo Cylinder
Diameter: 3.5″, Slope: 0.4″-1″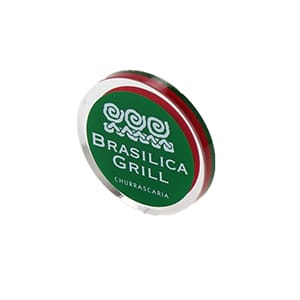 Small Round Acrylic Badge
Diameter: 2.95″ Thickness: 0.39″
Solid Acrylic Tube Logo Printing Riser
Diameter: 4″, Slope 1″-2.5″
Special Shapes
Oval Black Acrylic Logo Block
5.5″ L x 1.8″ W x 0.8″ D
Shield Shape Acrylic Sign Block
2.5″ L x 1.6″ W x 0.2″ D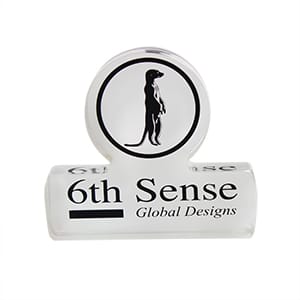 Special Shape Acrylic Brand Logo Stand
6″ L x 6″ W x 1″ D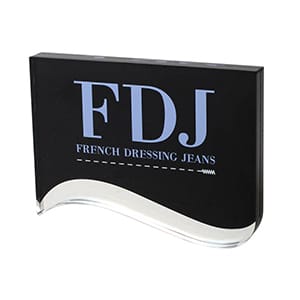 Special Shape Acrylic Logo Block
6″ L x 4.8″ W x 0.8″ D
3D Letters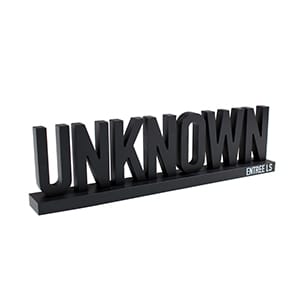 3D Free Standing Acrylic Letters
16.5″ L x 2.5″ W x 0.4″ D
Acrylic Block With 3D Letter Logo
6″ L x 2.4″ W x 0.6″ D
CNC Cutting 3D Free Standing Acrylic Letter
11.8″ L x 3.25″ H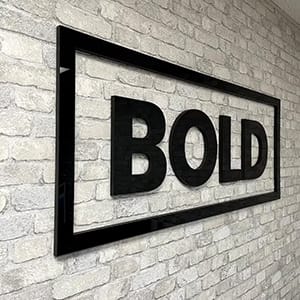 Wall Mounted Acrylic Brand Logo Block
Customized
Acrylic Logo Blocks Sorted By Colors
The original acrylic is colorless and transparent; white and black are also common. In Soonxin, you can request to customize all kinds of colors of acrylic logo blocks to match your brand style. Besides, it can also get a special appearance by frost surface finishing.
White
Small White Acrylic Logo Block
5″ L x 2.4″ W x 0.6″ D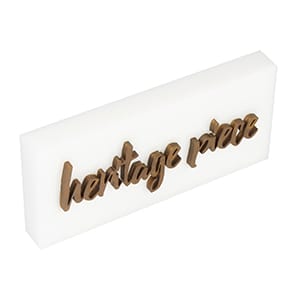 White Acrylic Block With 3D Letter
7″ L x 2.6″ W x 0.78″ D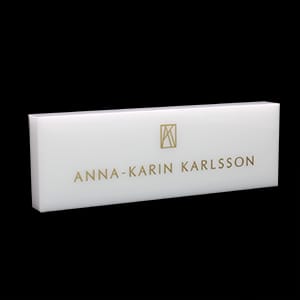 White Acrylic Block with Gold Logo Brand Silk Printing
7.75″ L x 2.4″ W x 0.8″ D
White Solid Acrylic Logo Block
11″ L x 7″ W x 1″ D
Black
Black Acrylic 3D Nameplate
7.8″ L x 3.15″ W x 1″ D
Black Acrylic Block With UV Printed Logo
7″ L x 4″ W x 1″ D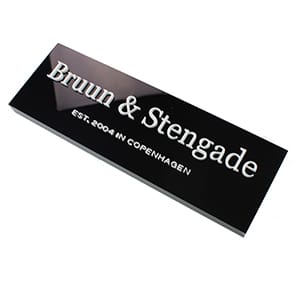 Black Acrylic Company Name Plate
14.5″ L x 5″ W x 1″ D
Gold Brand Logo Black Acrylic Block
7.75″ L x 7.75″ W x 1″ D
Colored
Clear Brown Acrylic Brand Block
7″ L x 3.5″ W x 0.78″ D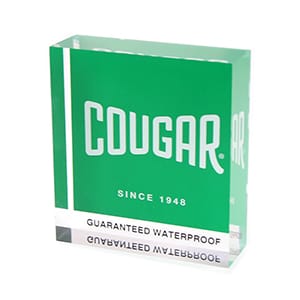 Green Clear Acrylic Logo Block
6″ L x 6″ W x 0.78″ D
Simple Red Acrylic Logo Block
7″ L x 2.6″ W x 0.78″ D
UV Printed Blue Acrylic Block
5″ L x 5″ W x 0.78″ D
Frosted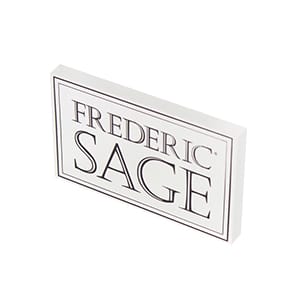 Frosted Acrylic Brand Signage Display Block
4″ L x 2.5″ W x 0.5″ D
Rectangle Frosted Acrylic Sign Holder Block
5.5″ L x 1.6″ W x 0.6″ D
Simple Frosted Surface Acrylic Nameplate
7″ L x 2.6″ W x 0.78″ D
Square White Acrylic Gold Logo Block
4″ L x 4″ W x 0.4″ D
Acrylic Logo Blocks Sorted By Printed Methods
You can print your brand logo or any pictures on the acrylic block in many methods. Different printing way has different visual effect; of course, also the cost.
Laser Engraving
Use the laser to etch the logo onto the surface of the acrylic block. Laser engraving can create a 3D effect and is ideal for creating intricate designs.
Blessing Laser Printed Heart-shaped Acrylic Block
5″ L x 6″ W 
Clear Pentagram Acrylic Award
5″ L x 5″ W x 0.5″ D
Laser Engraving Name Sign Acrylic Cube
4″ L x 4″ W x 0.6″ D
Laser Pattern Engraving Clear Acrylic Cube
Base: 4″ L x 0.8″ W x 0.5″ D, Overall Height 8″
UV Printing
UV printing is a method that involves curing the ink with ultraviolet light, resulting in a long-lasting, high-quality print. This technique can also be used to add texture or emboss to the logo.
Rectangle Art UV Printing Acrylic Block
7″ L x 3.5″ W x 0.78″ D
Square UV Picture Printed Acrylic Block
8″ L x 8″ W x 1″ D
UV Photo Printed Clear Acrylic Block
7″ L x 5″ W x (0.5+0.5)" D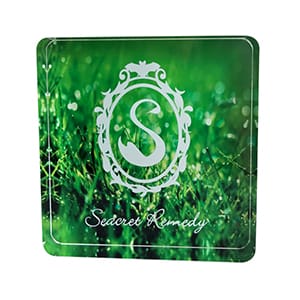 UV Printed Rounded Corners Square Acrylic Block
6″ L x 6″ W x 0.78″ D
Direct Printing
Using a digital printer to print the logo or a high-quality, full-color image on the acrylic block surface directly.
Direct Double Color Printed Acrylic Photo
4″ L x 8″ W x 0.78″ D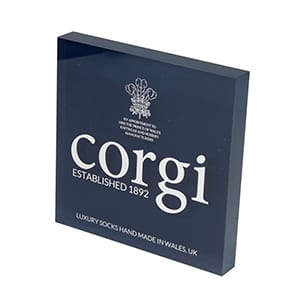 Direct Printed Acrylic Logo Block
6″ L x 6″ W x 0.78″ D
Full Color Picture Printed Acrylic Block
Customized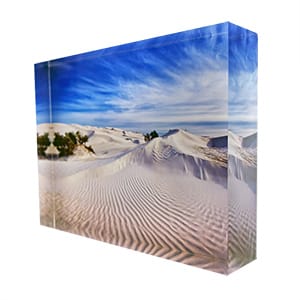 Picture Printed Acrylic Block
12″ L x 7″ W x 1.6″ D
Screen Printing
Print the logo or pattern on the acrylic block by applying the ink through a fine mesh screen. This is a simple and traditional method with favorable cost, fitting to a bulk manufacture or pure color logo process.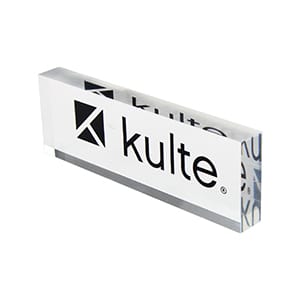 Brand Logo Screen Printed Acrylic Block
6″ L x 2.3″ W x 0.78″ D
Introduction Screen Printed Acrylic Plate
6.3″ L x 3″ W x 0.78″ D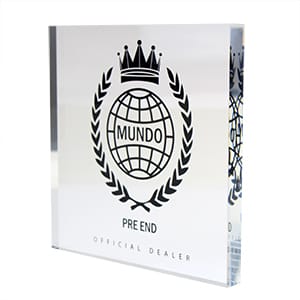 Logo Screen Printed Acrylic Logo Block
6″ L x 6″ W x 0.78″ D
Screen Printed Acrylic Branding Sign
7″ L x 2.6″ W x 0.78″ D
Vinyl Decal Printing
Printing the logo onto a vinyl material, which is then adhered to the acrylic block.
Clear Acrylic Block Brand Logo Vinyl Sticker
6″ L x 4″ W x 0.78″ D
Logo Vinyl Sticker On An Acrylic Block
6″ L x 6″ W x 0.78″ D
Small Vinyl Sticker Acrylic Badge
Diameter 2″
Small Vinyl Sticker Round Acrylic Sign
Diameter 2″
Acrylic Signage Display Video
How To Customize Your Acrylic Logo Block
Step 1
Please send us your logo design file in a vector format like AI or EPS. Then advise us of the size you prefer to make. We will make the layout for your checking. Our designer will work for you if you do not have a vector format file.
Step 2
Acrylic can be machined and tooled to accommodate a range of sizes and shapes it can also be colored or left clear depending on your requirements. Customize your preferred size and shape, then make a free Model sample for your checking.
Step 3
Proceed with production after confirming the sample. Typically packing way is PE bag+ Brown Inner Box + Outside Carton.
FAQ
What is the difference between Acrylic and Glass?
Acrylic is a very similar material to glass. But it is more shatterproof and resistant than glass. Also, if you want to differentiate any two of them in less than a second – just check the edges. If it's glossy green, then it's glass.
Does Acrylic turn yellow from the sun?
Sunlight and its ultraviolet rays can have some effect on different plastics, and Acrylic is not an exception. After being exposed to direct sunlight for an extended period, Acrylic might turn a little yellow. But this does not affect its durability.
Can an Acrylic sheet be easily scratched?
The answer can be a little controversial because to say that Acrylic cannot be scratched would be a lie. However, it is not accessible to mark an Acrylic; you have to put some pressure on it. But it is recommended to cover it with something, so it will not get scratched by other objects.
How durable are acrylic signs?
Acrylic is stronger, more impact-resistant, lighter in weight, and will not shatter. For instance, an acrylic sign of 0.125″ thickness is 2 to 3 times more impact-resistant than double-strength window glass.
How to clean the acrylic glass block.
Cleaning Precautions: In normal conditions, wash with mild soap, detergent, lukewarm water, or a quality plastic cleaner. Avoid cleaners that could scratch the acrylic surface
Are your samples free?
Yes, for regular acrylic blocks, we can offer free samples with your logo. But you pay the shipping cost or use your shipping agent for shipment.
What are the regular sizes of acrylic logo blocks in your stock?
Typically, all of our products are custom manufactured according to your request. However, we've also got some regular sizes in our stock:
4″ x 4″ – This small size is often used for desk name plates or to display a single logo on a tabletop.
6″ x 6″ – This size is slightly larger and is often used for office name plates, directional signage, or as part of a larger display.
8″ x 8″ – This size can be used for larger logos or to create a more prominent display on a desk or tabletop.
10″ x 10″ – This size is often used for lobby displays or as part of a larger exhibit or trade show display.
12″ x 12″ – This larger size can be used for a prominent display on a wall or as part of a large exhibit.
Do you provide design assistance and artwork file preparation?
Yes, your submitted artwork is reviewed by one of our design professionals at no additional cost so we can make sure there are no unexpected surprises. If needed as part of our service, we will also make recommendations to help you maximize the effectiveness of your ad. Templates are available to simplify your file preparation, and if needed, professional artwork design services are available at reasonable rates. Contact us for more details.
What should I do if I am not satisfied with the samples?
If the samples are not as good as you expected, you can ask us to refund the sampling cost or to allow us to improve the samples until you feel good about them.
If there are any damages or any defective products when I get the goods, what should I do?
We have to ask you to provide the video before we send you the new replacement. We will also suggest remaking and delivering more in the following order. Because a small quantity shipment costs a higher fee.
You may also be interested in
Get The Product Catalog
Or