Acrylic Jewelry Display Stands | Racks | Blocks | Trays | Organizer Box
Jewelry can most reflect the love-beauty nature of humans. As a merchant, you must display your jewelry in the best and most creative way, to attract your customers and increase sales. Acrylic jewelry display fixtures are no doubt the best choice.
These display fixtures include the one for watches, earrings, necklaces, bracelets, and one that organizes them all. They are mostly made from acrylic, one recyclable material, very friendly to the environment, and will also significantly increase your brand image.
As one of the best China display fixtures suppliers, Soonxin has worked with many famous jewelry brands in the world for years, offering them high-quality custom acrylic jewelry display fixtures. Meanwhile, we also work with every small store, with the most favorable price, to support their business. Except for the rich catalog, Soon also provides custom design services, for better displaying your products.
Watch Display Stands
Watch belongs to functional jewelry. Except for displaying their appearance, in some cases, you also need to show their functions. Especially for the smartwatch nowadays. Using the acrylic watch display stands with a signboard seems to be a good idea.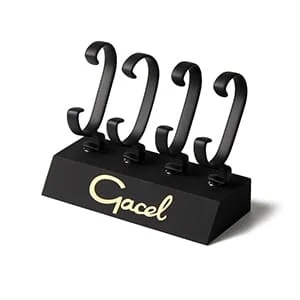 Insert-type Acrylic Watches Display Holder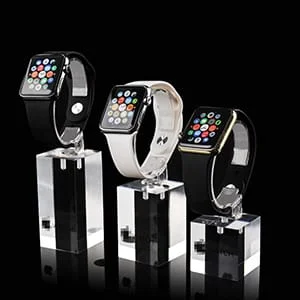 Clear Acrylic Display Cubes For Smartwatches
Single Watch Clear Acrylic Display Holder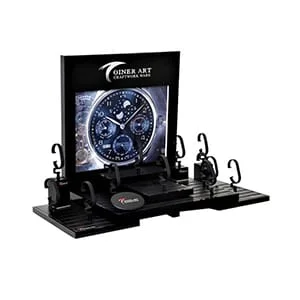 Promote Use Acrylic Watch Display Stand
Ring Display Stands
Light on the rings and making them shine can attract customers and increase buying inclination. Acrylic ring display stands can help you reach this goal easily. The clear acrylic display stands can reflect more dazzling light, and the items with a dark color or lined can keep the light more focused.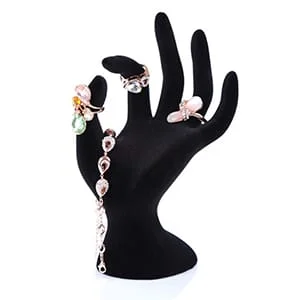 Acrylic Velvet Lined Hand-mold Rings Display Stand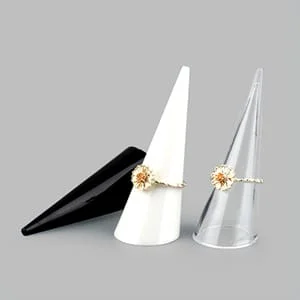 Acrylic Cones For Rings Display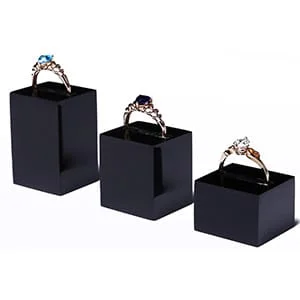 Black Acrylic Rings Display Cubes
Clear Acrylic Rings Display Blocks
Necklace Display Stands
Bust acrylic necklace display stands often appear in the most important place of a store, like counters and showcases. This material is not easy to generate static electricity and leads to dust, and it's very easy to clean. Besides, the T-bar necklace display stands are also popular, especially those rotatable ones. They can hang multiple necklaces simultaneously, which makes customers compare and choose expediently.
Clear Acrylic Bust For Necklace Display
Rotatable Acrylic Necklaces Display Rack
Tabletop Sign Necklace Display Holder With Logo
Velvet Lined Necklace Display Stand With Logo
Earring Display Stands
The tiny earrings are easy to lose, and it will be worse if you just lose one of the pairs. It will be a higher loss to a merchant because they have too many earrings that need to manage. Thus, you need a good earring organizer stand. Acrylic earring display stands not only can give a better display to attract customers but also manage them effectively.
L-type Dangler Earring Display Stand
Single Pair Earring Display Stand With Velvet Lined
Small Tabletop Earrings Wall Mount
Hoop Earrings Display Stand
Bracelet Display Stands
Pop-up stores often use T-bar acrylic stands to display bracelets. They can display multiple items simultaneously, and with the ingenious design at the endpoint, the bracelets won't drop off. To some expensive bracelets, you can also show them with acrylic blocks. The clear and velvet-lined ones can express a noble sense.
Tall Column Bracelet Display Stand
Clear Single Bracelet Display Base
Clear Acrylic Tabletop Bracelet Rack
Clear Acrylic Bracelet Organizer Box
Jewelry Organizer Fixtures
Acrylic organizer fixtures include trays, boxes, display stands, etc. They can better manage and organize various jewelry together, and can better display a set of design series. Some items can add printings on them to promote, or add a mirror for customers previewing.
Jewelry Combine Display Pop-up Stand
Dark Acrylic Stand For Jewelry Combine Display
Black Acrylic Jewelry Display Grid Tray
Flip-type Jewelry Organizer And Display Box
FAQ
Will the acrylic jewelry display stand cause damage to my product, such as scratches?
No. All sides of the acrylic are polished with diamonds, the surface is smooth, and the cut edges are rounded, which will not cause damage to the jewelry
I am a jeweler, and I often need to exhibit, but there are too many products. Is there a better acrylic display tool?
You can provide us with drawings for customization, or you can check out our other acrylic storage boxes. We can design according to your needs.
What is the best color to display jewelry?
The display rack for displaying jewelry is best to be transparent, black, gray, or white so that the product will not have colors difference due to light reflection. Our acrylic jewelry display stands can be customized in various colors to meet your needs.
Is acrylic easy to clean?
Yes. To clean minor blemishes, fingerprints, dusty powder, polystyrene, and plexiglass, please remove all debris first. Then, use a high-grade fine-fiber cloth dipped in an alcohol cleaning solution or soapy water to clean the entire surface. After wetting the cloth, make sure to gently wipe the surface without applying pressure while wiping. Too much pressure will cause more scratches. After wiping a whole piece of paper, wipe or wipe the area with the dry side of the cloth.
Are the sample free?
For Some of the small standard samples, we will offer free samples. And for more than 1pcs sample or custom jewelry stand sets. We will collect a low-cost sample cost.
You may also be interested in
Get The Product Catalog
Or