Custom Acrylic Displays Fixtures For Foundation, Blusher, and Eyeshadow
In the world of cosmetics, presentation is everything. Whether you are running a beauty salon or a retail store, showcasing your makeup products in the right way can be the key to success. Acrylic cosmetics display sets are an excellent way to make your beauty products stand out and grab the attention of potential customers.
These display sets are designed specifically for powder-like cosmetics, such as foundation, blusher, and eyeshadow. The acrylic construction of the sets allows for a sleek and modern appearance, which enhances the overall aesthetic of the products being displayed.
One of the main features of these acrylic cosmetics display fixtures is the poster panel. This feature allows merchants to insert posters or promotional materials to enhance the display's appearance and promote new or featured products. The poster panel can be customized to suit the merchant's specific needs, you can also require a mirror, making these display sets versatile and ideal for a wide range of cosmetic products.
Acrylic Brand Eyeshadow Promotion Stand
Acrylic Tabletop Eyeshadow Promotion Stand
Clear Acrylic Eyeshadow Sample Tray
POP 6 Colors Foundations Display Stand
POP Multiple Colors Blusher Sample Stand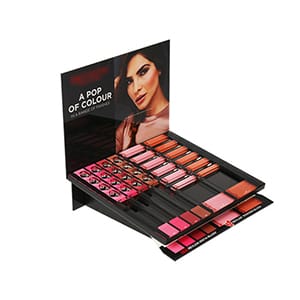 POP Multiple Colors Eyeshadow Sample Tray
Black Acrylic Foundations Brand Promotion Stand
Custom Acrylic Brand Blusher Sample Stand
POP Acrylic Makeup Bases Set Display Stand
Acrylic Foundation, Blusher, Eyeshadow Makeup Box With A Mirror
Black Acrylic Liquid Foundation Display Stand With Logo
Floor-standing Brand Promotion Foundation Cabinet
POP Brand Makeup Base Display Stand
Versatile Acrylic Makeups Organizer Stand
Brand Liquid Eyeliner Display Stand
POP 6 Cells Blusher Sample Stand
POP Foundation Makeup Sets Promotion Stand
Features
You may also be interested in
Send Your Required Now!
Or