Acrylic Sign Holders | Name Card Holder Bases | Magnetic Frames | Wall Mount Signs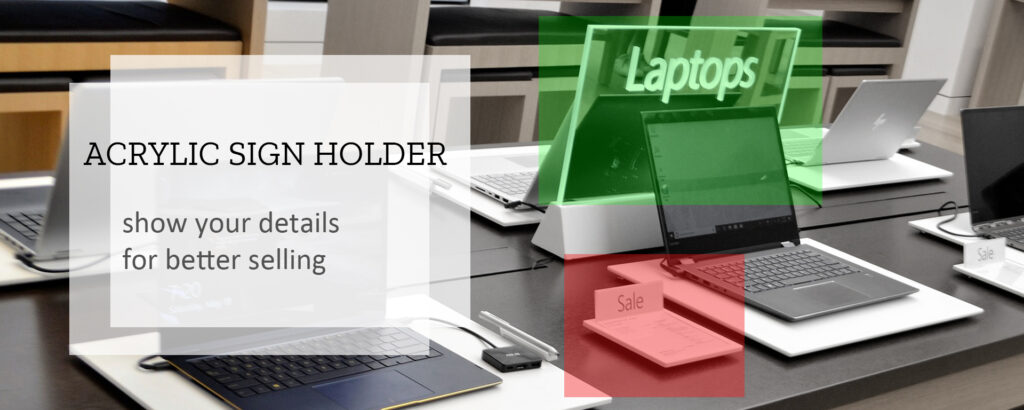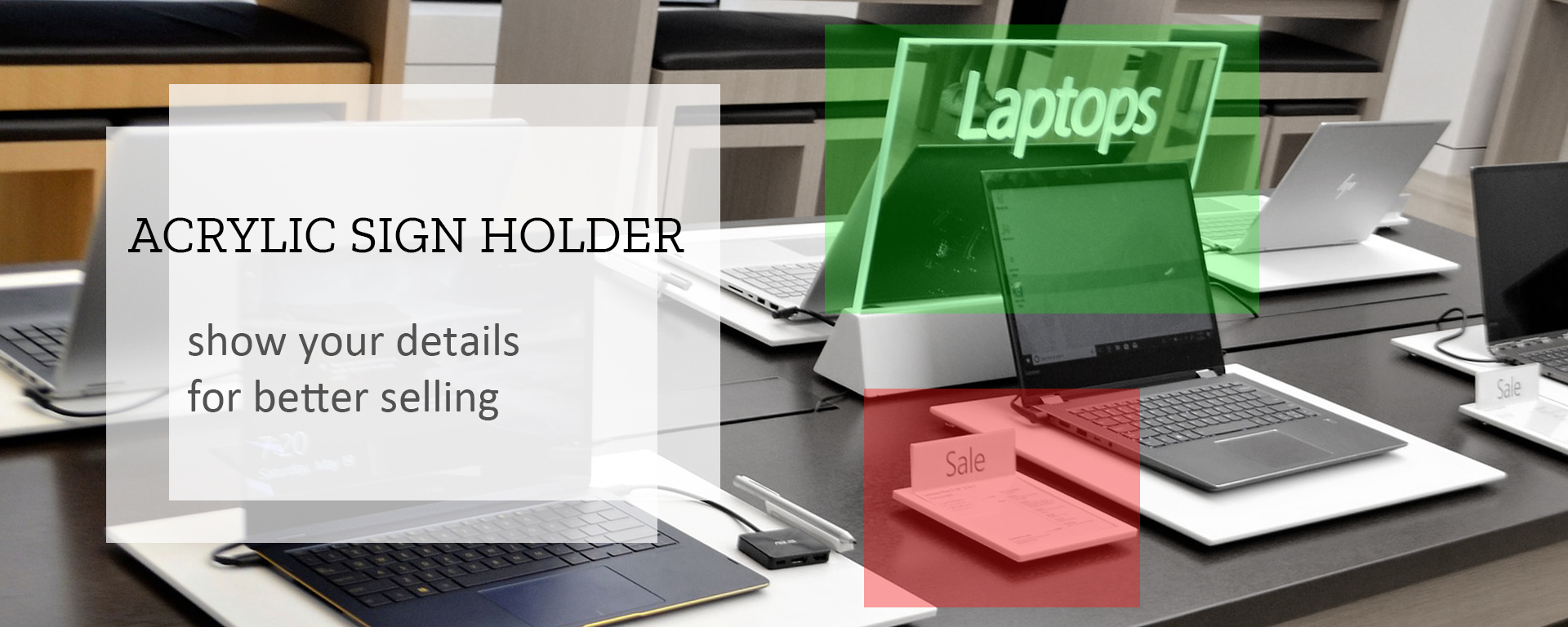 Acrylic Sign Holder is an economical and effective display promotion solution. It can be used on many occasions, like offices, schools, hotels, malls, retail, trade show, etc. Soonxin manufactures and wholesales various styles of acrylic sign holders. They are all made from high-quality and high-transparency acrylic, making your promotion posters visible and distinct, attracting more traffic and improving sales.
Soonxin Acrylic Sign Holders Features And Advantages
Low-cost, a more favorable price in a bulk purchase
High-quality material gives a high-transparency, conveys the message more clearly
The ingenious design helps you change the messages and graph more quickly and convenient
Light and easy to move
Easy to clean. Scrub the surface of the sign holder with a wet cloth gently, and no need to worry about wetting the poster inside
Steady and durable. They won't turn yellow or fragile over time, and they are damp-proof, suitable for outdoor use
Safe. Without any harmful chemicals
Acrylic is a kind of recyclable material that is friendly to the environment
Custom any sizes, colors, styles, and logo carving according to your need
Acrylic Sign Holder Types
There are many types of acrylic sign holders, and each one of them has its own functions and features.
Slanted L-style Acrylic Sign Holders
The slanted L-style acrylic sign holder is the most common and simple one. The stable structure makes it not easy to fall, suitable for placing on the counter, introducing the single product's information and promotion details. It is typically classified into top-loading, side-loading, or directly printed. The disadvantage of the slanted L-style acrylic sign holder is only one side can show the message.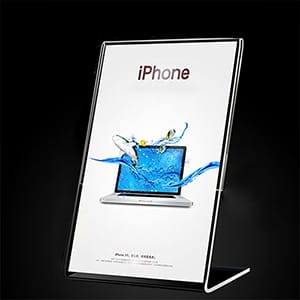 A4 Acrylic Advertising Poster Stand
8.5″ W × 11″ H
A-style Clear Acrylic Book Tabletop Holder
7.94″ L × 8.7″ H × 4 W
Slanted Clear Acrylic Side-loading Poster Stand
17" H  x  11" W  x  3" W
Acrylic Side-loading Name Card Holder
7″ L × 5″ W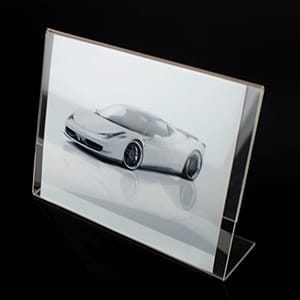 Horizontal Acrylic Side-loading L-style Stand
8″ L × 10″ H × 3.5 W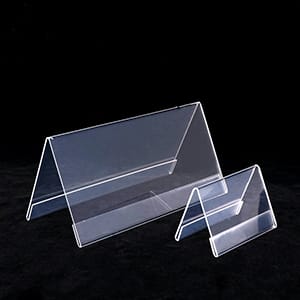 Triangle Slanted U-insertion Sign Holders
8.5" H  x  11" W  x  3" W
Acrylic Sign Panel With Metal Legs
11″ H × 17″ L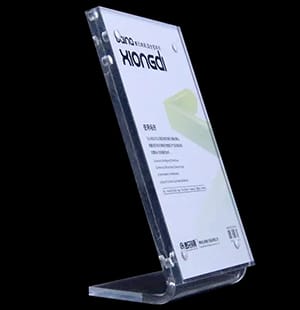 Magnetic-type L-style Slanted Acrylic Sign Holder
6″ H × 4″ W × 2″ W
Various Sizes L-style Slanted Sign Holders
Customized
Double Sided Display T-style Acrylic Sign Holders
The T-style acrylic sign holder supports double-sided displaying. It is typically placed on the booth and displays messages about different products on each side of the table. Or, according to different marketing strategies, quickly switch different promotion posters. It is classified into top-loading, side-loading, and directly printed.
Bottom-loading T-style Acrylic Poster Stand
17" H  x  11" W  x  3" W
Top-loading T-style Acrylic Sign Holder
14" H  x  11" W  x 3.5" L
Flipping-type Acrylic Notes Holder
11" H  x  8.5" W  x  3" W
Various T-style Acrylic Sign Holders
Customized
Side-loading T-style Acrylic Sign Stand
11" H  x  8.5" W  x  3" L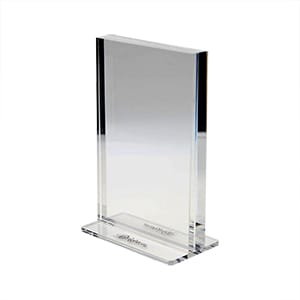 Vertical T-style Acrylic Sign Holder
10" H  x  18" W  x 3.5" L
Acrylic Sign Holders With LED Lighting
The sign holders with LED lighting are fit to be used in a dark environment or an occasion that needs a special atmosphere. In museums, art exhibitions, or luxury stores, the interior designer usually designs a dark background, the light will focus on the exhibits or products to attract customers' eyes. At this moment, the LED sign holders can better help people check the messages.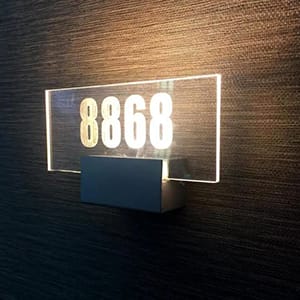 Horizontal Wall Mounted Acrylic LED Sign
8" W x 4" L X 1/5" D
L-style Acrylic Sign Holder With A LED Base
7″ W x 5″ H  x 2″ D
T-style Acrylic Poster Stand With A LED Panel
5″ W x 10″ H
LED Acrylic Poster Stand
5" W x 10" H X 3.5" D
Slotted Acrylic LED Base
10″ W x 4″ H,  BASE 11" W x 3″ H
T-style LED Acrylic Sign Stand
8″ W x 5″ H, Base 8.5″x 2″ 
LED Acrylic Sign Box
10″ W x 4″ H x 3″ D
Smart Acrylic LED Display Stand
1.97″ D x 5.91″ W x 7″ H
Smart Acrylic LED Display Stand
1.97″ D x 5.91″ W x 7″ H
Acrylic Sign Holder Bases
The simple acrylic sign block base with a slot, usually for displaying name cards. Its disadvantage is it has no panel for protecting the message, and the advantage is can quickly and conveniently change the display content. Besides, you can also request to add LED lighting on the base or custom Logo printing.
Acrylic Sign Holder Base With Logo Printed
1.18″ D x 6″ W x 1.18″ H
Flat Acrylic Sign Holder Base
4″ D x 8.7″ W x 1″ H
Trapezoid Green Acrylic Base With Logo
1″ D x 3.74″ W x 1.77″ H
Color Acrylic Name Card Holder
1.18″ D x 3.14″ W x 1.18″ H
Semi-cylinder Acrylic Sign Base With A Slot
Diameter: 5.5″, 4″ W x 4″ H
T-style Acrylic Sign Base
BASE:0.2″ D x 10″ W x 2.5″ H, FRAME: 9″W x 11″ H
Cube Acrylic Block Sign Base
BASE: 8.66″ W x 4.72″ D x 3.54″ H, Frame: 8.66″ W x 11″ H
Slotted Clear Acrylic Base
4″ W x 1.6″ D, SLOPE: 0.4″ – 1.18″
White Acrylic Base With A Slot
1.18″ D x 4.72″ W x 1.97″ H
Acrylic Wall-mounted Sign
The acrylic wall-mounted signs are typically used for displaying place information, like house numbers, company offices, washrooms, etc.; they are also taken as decor decorates. According to the installation ways, they are classified into 3 types:
Screw mounted. With predrilled holes, were installed on the wall with screws. It will damage the wall to a certain degree, but it's the most stable installation way.
Adhesive mounted. It is installed on the wall with adhesive tape. It damages the wall surface mildly, but it's easy to fix.
Suction cup mounted. It is installed on the wall with suction cups. It won't damage the wall, but it won't be very stable. Thus, this type is only fit to display small-size messages, and it has a certain request for the wall surface material.
Acrylic Predrilled Holes Wall Poster
8.5″ W × 11″ H
Horizontal Suction Cups Style Wall Sign Holder
10″ W x 6″ H
Small Predrilled Holes U-insert Wall Sign Holder
6.5″ W x 4″ H
Adhesive Tape Style Acrylic Wall Sign Holder
8.5″ W × 11″ H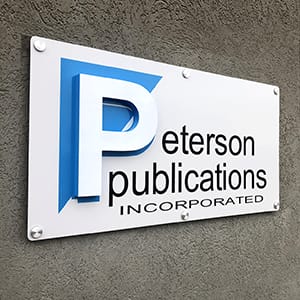 Large Acrylic Predrilled Holes Wall Sign
20″ W x 12″ H
Small Suction Cups Style U-insert Wall Sign Holder
12″ W x 7″ H
Frosted Acrylic Wall Sign
20″ W x 12″ H
Small Acrylic Toilet Wall Sign
7.8″ W x 7.8″ H
Square Acrylic Predrilled Holes Wall Sign
10″ W x 3″ H
Acrylic Magnetic Type Frame
This is a very trendy acrylic sign holder. The frame consists of two pieces of acrylic blocks with magnets inserted, very easy to swap out the content.
Acrylic Magnetic-type Tabletop Poster Stand
Frame: 5″ W x 7″ H  BASE: 5″ W x 1.2″H x 0.6″ D
Special-Shape Acrylic Magnetic-type Tabletop Frame
7″ W x  2 1/3 "H x 4/5" D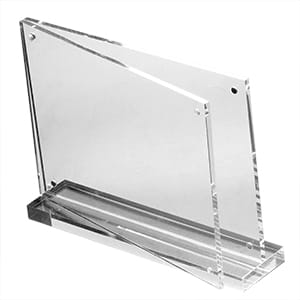 Horizontal Acrylic Magnetic-type Tabletop Stand
Frame: 5″ W x 7″ H  BASE: 5″ W x 1.2″ H x 0.6″ D
Vertical Acrylic Magnetic Panel Advertise Poster Stand
Frame: 8″ W x 10″ H  
Slanted L-style Acrylic Magnetic-type Countertop Stand
Frame: 11″ W x 14″ H  
Vertical Acrylic Magnetic-type Frame Block
4.7″ W x  7.8″ H x 1.2″ D
Acrylic Signage Display Video
FAQ
What are the different styles of clear glass or acrylic picture framing?
1. Top Leading frameworks for posters signage include a simple design that allows customers to move new graphics whenever required. Little magnets in the upper edges of each enclosure hold pictures securely in position. This high visibility, the stylish frame features the effortless installation of silver mounting standoffs for a contemporary, clean appearance that matches any environment. These acrylic poster holders without borders are perfect for fast-paced solution businesses like traveling or realty companies, monetary facilities, schools, and retail areas that use this kind of room for posts and ads that often change. The simple design makes loading new inserts easy and quick and permits swap-outs without unmounting the wall's enclosure.
2. Magnetic lucite block framing is designed for countertop display without installing equipment. These display screens include twin panels held together by tiny magnets on each edge. These stylish countertop components make it simple or modify graphics or indications whenever needed. Fast-change indeterminate indication block structures make premium point-of-sale advertising, marketing accessories, and tabletop menu displays.
3. Acrylic foldover frames feature economic situation building and construction with a built-in place. The simple foldover style permits the mounting to work as a mounting bracket while helping graphics to glide quickly into the sides for quick changeouts. Smaller plastic wall places include a rear notch for hanging the display screen on nails or screw heads. Most larger dimension indeterminate poster frames have all equipment required for a protected installation. The largest graphics hangers include a metal mounting bar for optimum security when mounted.
4. Glass clip frames and plexiglass sign owners have two clear panels joined together along with metal or plastic clamps for stability. When wall-mounted, these transparent picture screens are sturdy enough to be used as store directories, dining establishment menus, unique lists, and owners for artwork. From simple clip-together frames for letter-size graphics to authorize owners with edge-grip steel standoffs, the many styles of enclosures allow these stylish indeterminate glasses and acrylic frameworks to enhance any poster in addition to any environment.
5. Slatwall-mounted acrylic sign holders are compatible with nearly any type of wall-mounted or freestanding slat-wall panel or fixture. The groove-back design permits transparent plastic marketing material displays to be affixed easily without needing devices or hardware. These indeterminate framing devices are ideal for showcasing sales, products, or valuing details in retail or business settings and enable easy graphics modifications in addition to being conveniently relocated in-between places as required.
How are indeterminate structures set up or placed?
1. Standoff mounting provides a look of style to signage in any location. The 3-dimensional effect developed via edge-grip installs is excellent for lit-up indeterminate display screens. It will undoubtedly give a high-end look to even the easiest acrylic foldover or sandwich install.
2. Transparent acrylic wall hanging sign holders feature predrilled mounting holes that only require a primary screw or nail for setup.
3. Wall-install plexiglass and glass clip frames have back-installing grips and hanger hooks for simple installation on upright surface areas. Our larger poster-size designs include all called-for mounding equipment, such as standoffs, screws, or anchors. On the other hand, many smaller-sized dimension indication owners have easel-style backers for counter use.
4. Suction cup mounting is designed for use on non-porous surfaces, made for use on non-porous surfaces, making it ideal for windows and doors. This simple poster wall mount is optimal for storefronts and customer-facing displays. Suction-mounting is a perfect selection for double-sided signage such as company operating hours, sales information, or use as an open/closed indication.
5. Top-loading frames with magnet enclosures are available in various sizes and provide different placement designs. Fundamental lucite & acrylic display fixtures are ideal for usage in any commercial or expert area. Clear, plastic solid photo holders can show signs, marketing, advertising, sales materials, menus, pictures, artwork, or messages. These simple plastic indication installs can be found in various styles designed for the counter, window, or wall surface mounting.
Why pay even more for picture or art hangers?
Our stock regularly contributes new styles of ready-made photo and picture frameworks. Our designers and distributors work extremely tough to ensure that this style of transparent print display screens is the most significant and most extensive offer on the web. The print owners offered are created small and huge postings, film poster prints, art, and retail signage. Our choices are superb at gathering attention and ensuring that the included messages and graphics are noticed! Many graphics supply homes order materials for picture posts and, after that, re-sell them at marked-up costs. Our all-set explained glass and acrylic rooms are available at wholesale prices, right from the resource, for maximum consumer cost savings. Every product marketed on our site offers integrated wholesale price discounts and customizes your style.
How to keep your acrylic sign holder from blowing away?
If you need to use an acrylic poster stand outdoor, We will suggest choosing the tent design which adds a lot of needed stability, so you can confidently display outdoors and not worry about your material blowing away.
Are some standard sizes available in stock for small orders?
Yes, for sizes 8.5 X 11 inches, 6 X 4 inches, and 5 X 7 inches, 11 x 17 inches, we all have a small amount of stock. If you need samples or a small number of trial orders, you can choose our stock products directly.
If we need to customize the outer packaging, can it be done?
When the quantity reaches the minimum order quantity, it is ok to customize the inner box with company information or LOGO. Pack it according to your needs and print it in a separate BAR CODE.
You may also be interested in
Get The Product Catalog
Or