Acrylic Sign Holder Products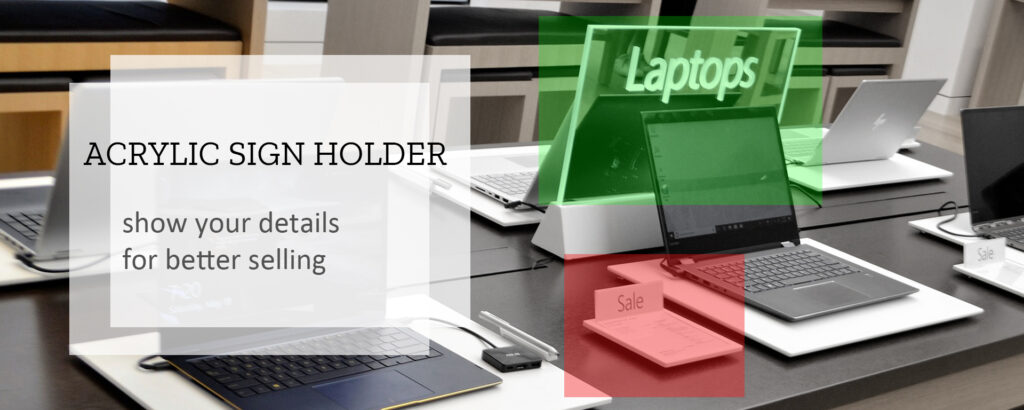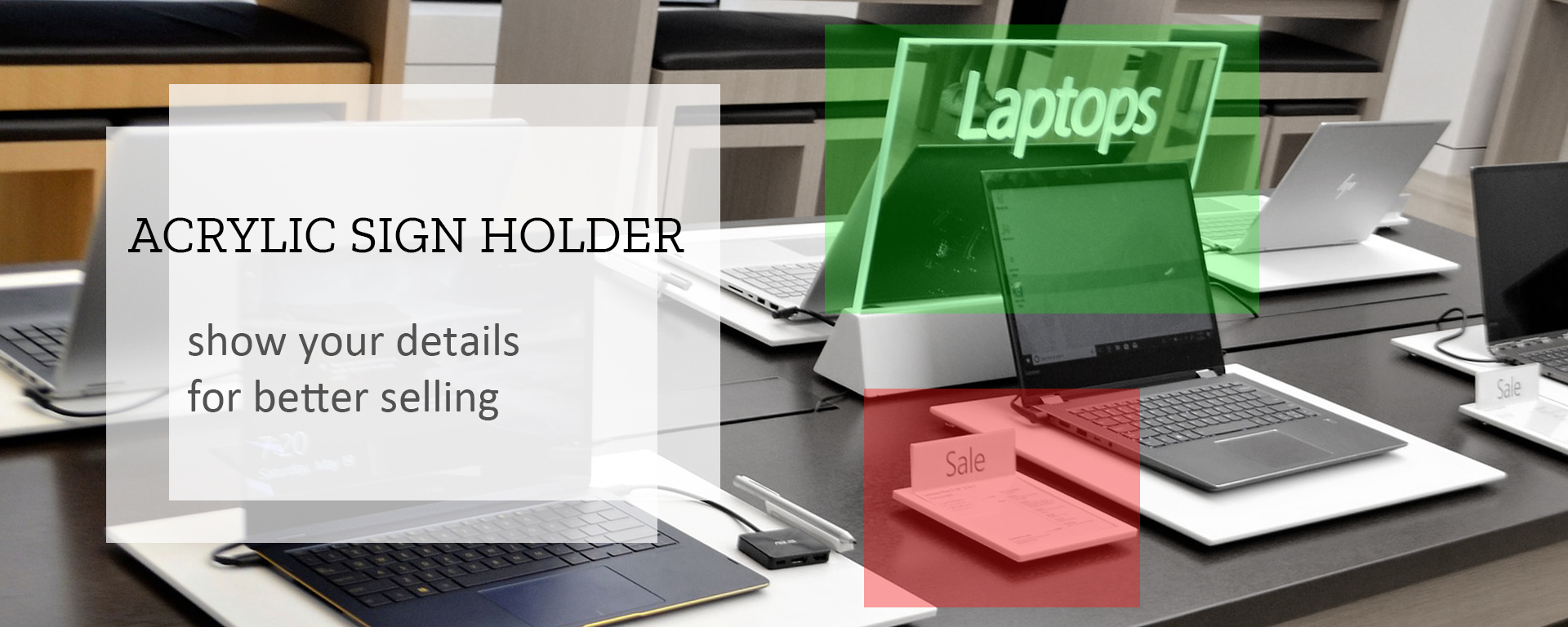 Acrylic Sign Holders Wholesale
Acrylic sign displays are affordable and effective ways to display your promotional material in a large variety of locations. Acrylic is a kind of material which easy to clean and dust-free material. The Signage Holder comes in different shapes and models to offer a clear view of POP advertising material.
Some of the benefits of using these Sign Holders are:
Low cost when buying in bulk
Easy to clean they always look good
Easy to change when your information changes
Versatility allows you to display a scope of information easily
Small enough to move around easily so information goes where you need it.
Not all acrylic and plastics are made the same. At SOONXIN DISPLAYS we use ultra clear cast acrylic for all of our products. Cast acrylic products are stronger and more scratch resistant
At Soonxindisplays, we work hard to accommodate whatever display need you have. If you don't see what you're looking for among our stock versions of slanted sign holder, don't hesitate to contact us for custom work. We have some in our stock of every kind of sign holders and are proud to list them at the best prices possible
Slant Back Sign Holders
CLEAR & DURABLE
The arylic sign holder is made by high-quality acrylic material, This holder is clear, durable, light, smooth and is highly resistant to dirt and scratches.


EASY TO USE
This L-Shaped Ad Frame is made to SIDE LOAD for easy insertion of paper. Paper Slips in easily through the side.You can use a damp cloth to wipe away any dust or grime from the surface.


ANGLED FRAMES
With the innovative slant-back self-standing design, the acrylic holders are stable enough which makes it an ideal choice for office to display images, announcement or advertise pamphlets.
All Size and Angled to customized according your request.


Slant Back Sign Holders enhance the visibility of graphics on counters and tabletops. Some of the benefits of using these acrylic display holder are:
Slant Back Sign Holders, or slanted sign holders as they're commonly referred to, are sleek and modern looking clear plastic sign holders that come in many different sizes and shapes. these L shaped sign holders can fulfill whatever display need you may have.
These acrylic angled sign holders are available in portrait or landscape orientation and are ideal for table or countertops.
Work in the restaurant industry? Choose a larger slanted sign holder for entryway instructions to incoming patrons. Need some quick and easy, yet effective, signage at your tradeshow booth? Pick some smaller L-shaped sign holders to use for your various products. Use the tried and true slant back sign holder for hotel lobbies, doctor's office waiting areas, retail shelves – the possibilities are endless.
This angled sign holder is great as a restaurant literature display or as a tabletop display! Slide image in the backsides for fast graphics changes. Because each angled sign holder is made of durable acrylic, you don't have to worry about easy breakage or damage!
Secured Packing
According to the shape and size of the product, make secured packing with PE bag, bubble film, EPE film, Styrofoam, Paper Protection, master carton, etc.
Pallet packing is available.
Products packing inner box can be customize when quantity reaches minimum order quantity
Shipping Method
Air express, By sea, By air.
Popular Size & Free Design
Custom Different styles and sizes according your necessary. Like from Angled Acrylic Display – 8 1/2 x 11 to small slanted sign holder 3 x 5. Some our angled sign holders are all in stock ready to ship.
You can make any Size and angle your prefer to better show your menu. Slanted acrylic frames are a great way to deliver important information and be noticed may it be in a retail store, tradeshows, or even next to a product your selling.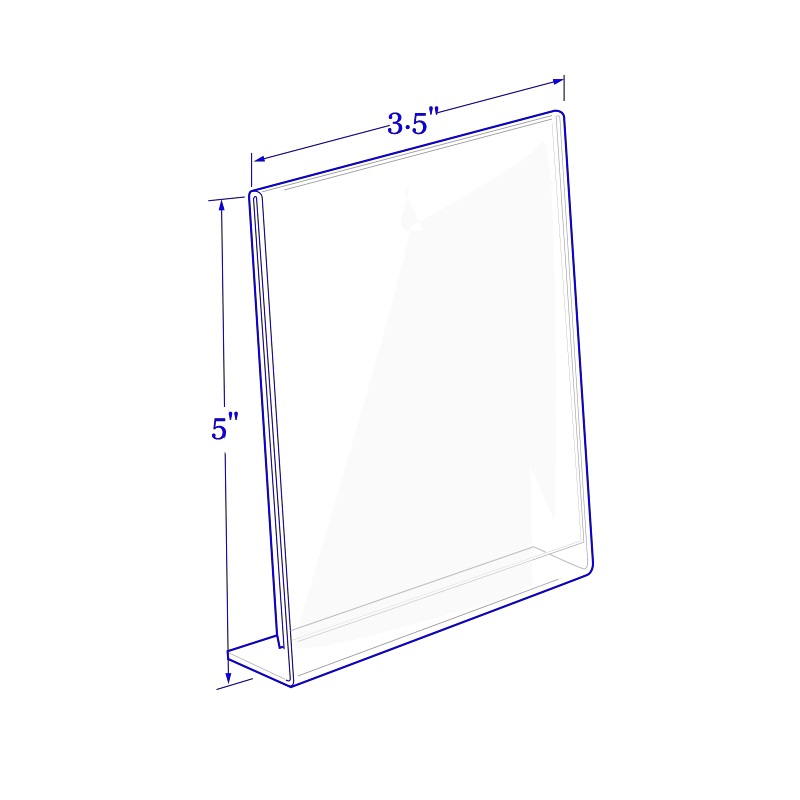 Double Sided, Bottom Loading Sign Hoders
T shaped sign holders feature a top-loaded design for easy insertion and removal of your promo materials and other signage. Our table tent displays come in a lot of different sizes and orientations, make sure you put some thought into which option works best for you.
Bottom Loading – Sign conveniently loads from the bottom. To prevent tampering of the contents inside. This is beneficial because it keeps out dust, water, and air from entering the display from the top
Double-Sided – Holder displays and protects on both sides with great clear visibility and is easy to clean & change the content.
The frame is constructed of durable clear acrylic have High transparency that allows for easy viewing of the material
Strong & Durable Wide T Shape Base – Stands upright on its own with excellent support. Be confident the sign won't fall over because the acrylic base is strong enough to where you can stand it up vertically, or lay it down horizontally.
HS Code: 39269090
Benefit-focused signage is particularly effective for luxury and lifestyle products, where features are rarely a compelling selling point.
Size
Available Insert Sizes:
4″ x 6″
7″ x 5″
5.5″ x 8.5″
8.5″ x 11″
A3/A4/A5
Any shape customized.
Well Suited For
Our acrylic sign holder ideal for distributing coatings for any signage for home and commercial use in restaurants, bars, marketing, fairs, promotions, trade shows, weddings, name card office depot.
T Shaped Sign Holder with Magnetic Close
Available Insert Sizes:
4″ x 6″
7″ x 5″
5.5″ x 8.5″
8.5″ x 11″
A3/A4/A5
Any shape customized.
Standing Signage
This acrylic table card with separated base is very suitable for luxury counters, such as jewelry stores, eyewear stores, watch stores, mobile phones stores. Very bright and advanced.
Freestanding T-shaped signs,stands prominently on flat surfaces so that store customers or personal guests can easily see ideal for limited space.
Base: base and frame separated. Base customized with straight slot or with angles to be a slanted version. Base material widely to choose like acrylic, wood.
Frame: Picture Frame made from Bending acrylic inserted picture. Or small magnets hold pictures between two clear acrylic panels. Also choose to make frame from Kt board or cardboard with printing advertising content. We both supply the base and printing advertisement when necessary.
Logo: Silk screen printing or engarving logo on both sides.
Made from break-resistant high-impact acrylic. They are popular with retail outlets, banks, churches, doctors offices, schools and businesses looking for the most reliable countertop sign holders available.
Minimum order: small try order acceptable.
Holds a variety of literature sizes.
4″ x 6″
7″ x 5″
5.5″ x 8.5″
8.5″ x 11″
11″ x 14″
11″ x 17″
Custom Any Size
Vertical A3 A4 A5
Horizontal A3 A4 A5
Any shape customized.
This acrylic table card frame can use two transparent acrylics with small magnets to replace photos or advertising messages at any time. The base can choose transparent acrylic, black acrylic or white acrylic. You can also spray your favorite color on the surface. The company logo is added to the corner of the frame, which contains the unique and exclusive features of the product.
Well Suited For
This stand up picture holder displays photos, signs, brochures, advertisements, certificates, drink specials. Each frame can be used in homes, bars, retail environments, tradeshows, and many other locations.
Polygon Table Tents
Acrylic Signage Holder Features
Reusable-easy to delete and update ads in a short time. Used a long time.
Multifunctional and customizable ideal for any business and product needs, displaying price menu, brochures, photos, graphics, literature, and products.
Two-in-one and all-in-one display signage can display different graphics and different content prompts on each side. Customize business card slots and poster slots of corresponding sizes. Multi-layer and multi-faceted use.
Easy to set up, no need to install, small size, easy to transfer, display advertising content anytime, anywhere.
Anti-glare acrylic material ensures a better display of ads and easy to read
Acrylic Signage Video Display
How Acrylic Sign Holder Made
The work method adopts functions such as drilling, turning,and cutting. Use microcomputer-controlled mechanical cutting and engraving to improve processing accuracy. Acrylic lucite sign holder has good processing properties, which can be thermoformed or machined
Cutting
To cut and process the acrylic board with the cutting machine, the size of the acrylic table card needs to be clarified. Avoid wasting materials for making acrylic table cards.
Trimming
After cutting the acrylic, the edges of the acrylic cut surface will be rough, so after cutting the acrylic is trimmed, which requires a trimming machine to process the cut surface of the acrylic.
Punch
According to the customer's requirements for the production of acrylic table cards, some acrylic table cards have small round holes, which will be used in this step punching process.
Polishing
After cutting, trimming, and punching, the edges are rough and easy to scratch your hands, so you need to acrylic
Carry out polishing treatment, polishing is also divided into diamond polishing, cloth wheel polishing, and fire-throwing, which need to be made according to acrylic poster holder. As required, we used diamond polishing.
Silk Screen
Some customers require that the company's brand image be displayed on the acrylic table, and the company logo needs to be printed on the acrylic table.
This acrylic table card manufacturing process requires the use of screen printing technology.
Hot Bend
Acrylic tabletop signate of various shapes can be produced through hot bending. Hot bending is also divided into all hot bending and whole body hot bending.
Bonding & Packaging
These two steps are the last two steps in the production of the acrylic table display. After the bonding and packaging are completed, the production of acrylic table cards is completed.
FAQ
Q. What are the different styles of clear glass or acrylic picture framing?
Top Leading frameless insert frameworks for posters signage includes a simple design that allows customers to simply move new graphics whenever required. Little magnets in the upper edges of each enclosure hold graphics securely in position. These high visibility, stylish frames features the effortless installation of silver mounting standoffs for a contemporary, clean appearance that matches any environment. These acrylic poster holders without borders are perfect for fast-paced solution businesses like travelling or realty companies, monetary facilities, schools, and retail areas that use this kind of room for posts and ads that often change. The simple design makes loading new inserts easy, quick and permits swap outs without unmounting the wall's enclosure.
Magnetic lucite block framing is designed for countertop display without installing equipment. These display screens include twin panels held together by tiny magnets on each edge. These stylish countertop components make it simple to tons or modification graphics or indications whenever needed. Fast-change indeterminate indication block structures make premium point of sale advertising and marketing accessories and tabletop menu displays.
Acrylic foldover frames feature economic situation building and construction with a built-in place. The simple foldover style permits the mounting itself to work as a mounting bracket while permitting graphics to glide quickly into the sides for quick changeouts. Smaller plastic wall places include a rear notch for hanging the display screen on nails or screw heads. Most larger dimension indeterminate poster frames include all equipment required for a protected installation. The largest graphics hangers include a metal mounting bar for optimum security when mounted.
Glass clip frames and plexiglass sign owners have two clear panels joined together along with metal or plastic clamps for stability. When wall-mounted, these transparent picture screens are sturdy sufficient to be made use of as store directories, dining establishment menu or specials lists, as well as owners for artworks. From simple clip-together frames for letter-size graphics to authorize owners with edge-grip steel standoffs, the many styles of enclosures allow these stylish indeterminate glasses as well as acrylic frameworks to enhance any poster in addition to any environment.
Slatwall mounted acrylic sign holders are compatible with nearly any type of wall-mounted or freestanding slat-wall panel or fixture. The groove-back design permits clear plastic marketing material displays to affix easily without the need for devices or hardware. These indeterminate framing devices are ideal for showcasing sales, product, or valuing details in retail or business settings and enable easy graphics modifications in addition to being conveniently relocated in-between places as required.
Q. How are indeterminate structures set up or placed?
Standoff mounting provides a look of style to signage in any location. The 3-dimensional effect developed via or edge-grip installs excellent for lit up indeterminate display screens and will undoubtedly provide a high end look to even the easiest acrylic foldover or sandwich install.
Clear acrylic wall hanging sign holders feature pre-drilled mounting holes that call for only a basic screw or nail for setup.
Wall install plexiglass and glass clip frames have back installing grips and hanger hooks for simple installation on upright surface areas. Our larger poster-size designs include all called for mounding equipment such as standoffs, screws, or anchors. On the other hand, lots of smaller sized dimension indication owners have easel-style backers for counter use.
Suction cup mounting is designed for use on non-porous surfaces, made for use on non-porous surfaces, making it ideal for windows and doors. This kind of simple poster wall mount is optimal for storefronts and also customer-facing displays. Suction-mounting is a perfect selection for double-sided signage such as company operating hours, sales information, or use as an open/closed indication
Top-loading frames with magnet enclosures are readily available in a complete range of sizes and provide various placing designs. Fundamental lucite & acrylic display fixtures are ideal for usage in any commercial or expert area. Clear, strong plastic photo holders can be utilized to show signs, marketing, advertising or sales materials, menus and pictures, artwork, or message. These simple plastic indication installs can be found in various styles designed for the counter, window, or wall surface mounting.
New styles of ready-made photo and picture framework are contributed to our stock regularly. Our designers and distributors work extremely tough to ensure that this style of transparent print display screens is the most significant and most extensive offer on the web. The print owners offered are created small and huge postings, film poster prints, art, and retail signage. Our choices are superb at gathering lots of attention and making sure that the included messages and graphics are noticed! Many graphics supply homes order materials for picture posts, and after that, re-sell them at marked-up costs. Our all set explained glass and acrylic rooms are available at wholesale prices, right from the resource, for maximum consumer cost savings. Why pay even more for picture or art hangers? Every product marketed on com offers integrated wholesale prices discountsand customized your style.
Q. What is the difference between an acrylic table card and an ordinary plastic table card One.
A. Differentiate between plexiglass products and plastic products: The first point is the material transparency and brightly. Acrylic plexiglass is very high transparency and even more transparent than glass, which is unmatched by plastics, and the color of acrylic plexiglass is also very bright and eye-catching, while plastic products' color is larger and duller than the bright acrylic glass products. ·
at the smoothness and bright color of acrylic. When under the light, it can have a shiny luster, crystal clear, while the smoothness of the plastic products is poor, there is a rough feeling and there is no shiny feeling under the light. ·
Third, for acrylic material, there is no feeling of coldness on the touch, but a mild and gentle. And plastic products are not likely to happen.
Q . How to keep your acrylic sign holder from blowing away.
A. If you need to use an acrylic poster stand outdoor, We will suggest choosing the tent design which adds a lot of needed stability, so you can confidently display outdoors and not worry about your material blowing away.
Q. Are some common sizes available in stock for small orders
A. Yes, for sizes 8*11.5 inches, 6*4 inches, and 5*7 inches, we all have a small amount of stock. If you need samples or a small number of trial orders, you can choose our stock products directly.
Q. If we need to customize the outer packaging, can it be done?
A. When the quantity reaches the minimum order quantity, it is ok to customize the inner box with company information or LOGO. Pack it according to your needs and print it in separate BAR CODE.