Custom Acrylic Organizer Cases | Office Desk Organizers | Display Trays | Tissue Boxes | Organizer Drawers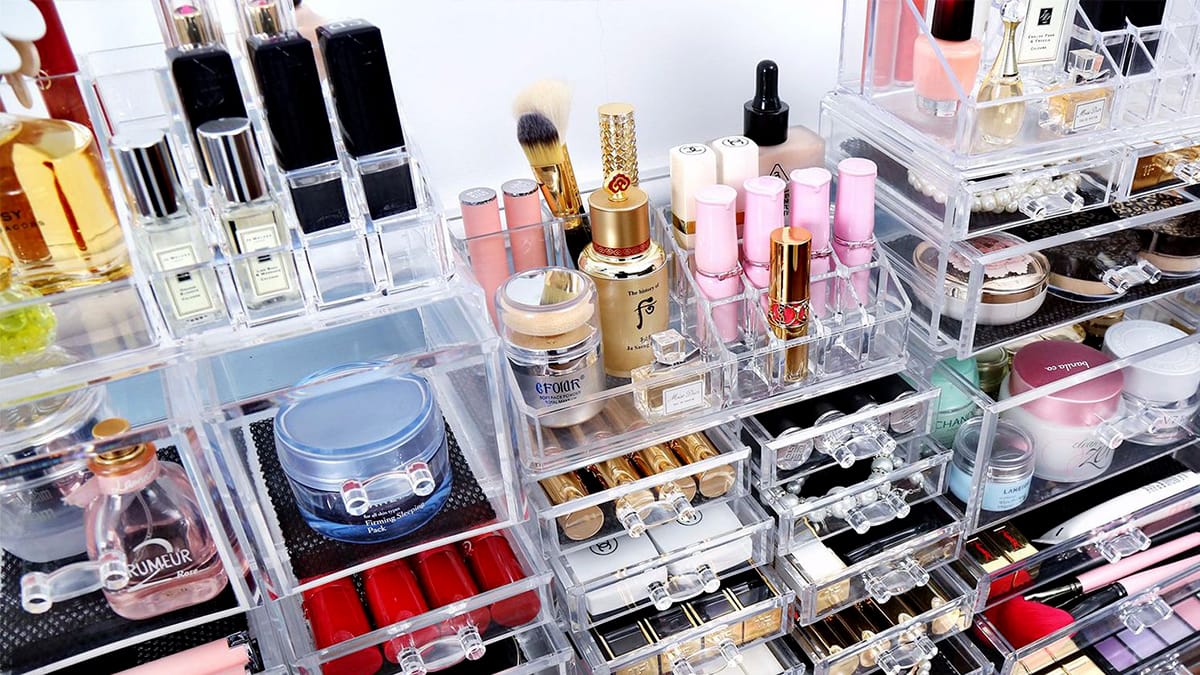 Acrylic has low-cost, solid, durable, high-transparency, and high-plasticity features, which is a popular material for making display fixtures. They are also used in jewelry stores, retails, and cloth stores. Besides, acrylic also fits processes into containers for storing and organizing things.
Soonxin wholesale various acrylic organizer cases and display boxes at favorable prices. They can be applied in many scenes, like the organizers which help organize mussy office desks, the cases that store and display various figures, divided trays typically seen in jewelry stores, tissue boxes and towel dispensers, etc. Their simple appearances are also easy to match different decor styles.
Besides the rich styles in the catalog, we also provide custom design services, including size, style, color, printing, etc. For some items, like the display boxes, you can ask for adding lighting or mirrors, or use special materials for the case.
Acrylic Display Cases And Boxes
High-quality acrylic cases are the best choice for storing and displaying collections like figures and sneakers. They have transparency that is no less than glass, and much lower cost. The more important is that acrylic is stronger than glass; when getting a hard shock, it won't break into sharp pieces and hurt your collections.
Except for storing and displaying collections, acrylic boxes are often used as packaging. Some flower stores and jewelry stores use the acrylic box to pack their products, making them look higher grade.
2 Tiers Acrylic Figures Case With Lighting Set
Acrylic Sneaker Display Box
Heart-shape Acrylic Flower Box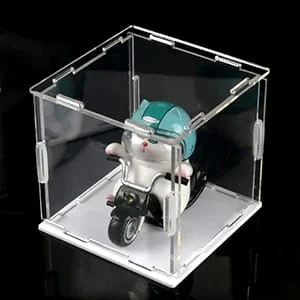 Small Acrylic Display Box For One Figure With Hinged-lid
Acrylic Office Desk Organizers
Acrylic office organizers can excellently organize various small stuff on your desk, like pens, rulers, staplers, scissors, paper clips, etc, to help save more space. A tidy environment can help you more focus on the work, and organizing the office supplies reasonably can improve your efficiency.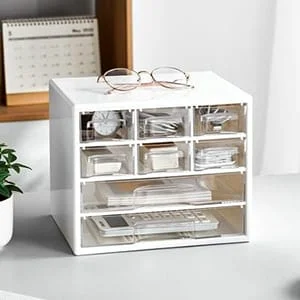 Fashion White Acrylic Organizer Drawer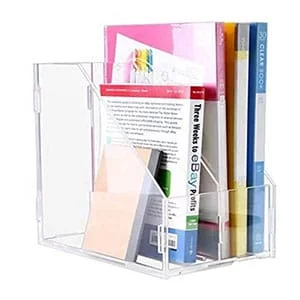 2 Compartments Acrylic Book Stand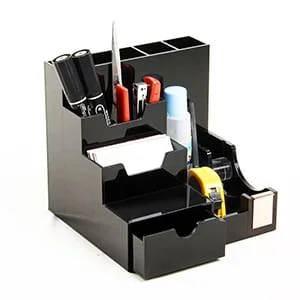 Multiple Functions Black Acrylic Office Supplies Organizer
Acrylic Mark Pen Organizer Drawer
Acrylic Tissue Boxes And Towel Dispensers
Acrylic has waterproofing and corrosion-resistance features, so it's suitable for making containers for storing tissue and towel, especially in a damp environment like the shower room. The clear appearance helps you check the left amount easily and re-fill in time. With small widgets like hookers and suction cups, you can install the boxes on the wall for more convenient use.
Acrylic Bathroom Cleaning Supplies Organizer
Black Acrylic Tissue Box With Lid
Rectangle Acrylic Towel Storage Tray
Open-type Non-fold Tissue Dispensers
Acrylic Organizer Tray And Drawers
You may think the acrylic box still takes up too much space. Then, the flatter acrylic organizer trays and drawers are also a good idea. These trays and drawers can be with dividers and covers, and can excellently organize and display small stuff. They are typically in a regular rectangle shape, you can get more storage space and a reasonable layout by stacking them.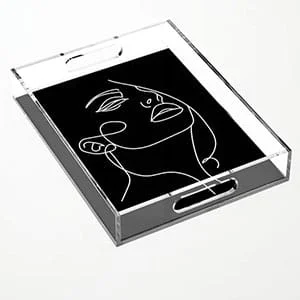 Acrylic Serving Tray With Pattern
Square Acrylic Display Tray With Lid And Logo Printed
9 Compartments Square Organizer Drawer With Lid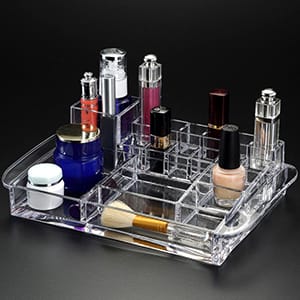 Clear Acrylic Divided Tray For Cosmetics Organizing
FAQ
How to remove stains?
If there are any makeup stains on the acrylic surface, you can moisten the microfiber cloth (or cotton fabric) with soap liquid or detergent, which has been diluted with water. Use the microfiber or cotton cloth to wipe the clear acrylic makeup organizer to eliminate all the smudges and stains.
Are acrylic organizers available in different colors?
Yes, you can customize the acrylic organizers in various colors.
Do your products retail?
We don't retail. Min-order quantity (MOQ) was required for any product, normally MOQ is 50 – 100 pieces according to products size and color;
Do you accept OEM designs? Can you do the design for us?
Yes, it will be welcome; we have a professional team with rich experience in display design and manufacturing. You can provide us with samples or drawings, or ideas. We will help to finish the artwork and sample.
How about your sample policy?
Small samples or stock items are free as samples. If custom items, we will collect a little sample fee for that.
You may also be interested in
Get The Product Catalog
Or