SOONXIN DISPLAY CO.,LTD
ABOUT SOONXIN
A professional Retail display fixture manufacturer & supplier in Quanzhou,China, company with a wide choice of fine display and retail equipment for any shops, stores, supermarket building directories, works of art, portraits, landscapes, and more. We have been in this business for more than 10 years, own a factory of 3000 square meters with skilled technicians, independent carpentry workshop, polishing workshop, paint shop, organic chin workshop, and packaging workshop, including an inkjet workshop, carving workshops, silkscreen workshop, etc.
More than 150 employees. Designers and engineers have an average of many years of industry experience. They are good at operating advanced design software (SOLIDWORKS, 3d MAX, CAD), and are familiar with various production processes.
OUR CAPACITY
our facility can fabricate and build retail display needs ranging from acrylic display cases to unique POP fixtures. We buy and stock a large inventory of raw materials, saving you money and time.
Monthly Production Capability: 500,000 pcs universal acrylic displays.
Machines: CNC, 3D laser cutting machine, diamond polisher, UV printer, silk screen printer, etc
Order mode: Sample processing, ODM, OEM processing service.
We offer a range of solutions to get your displays into your outlets, including packaging, collating, stock and ship, kits, and drop shipping.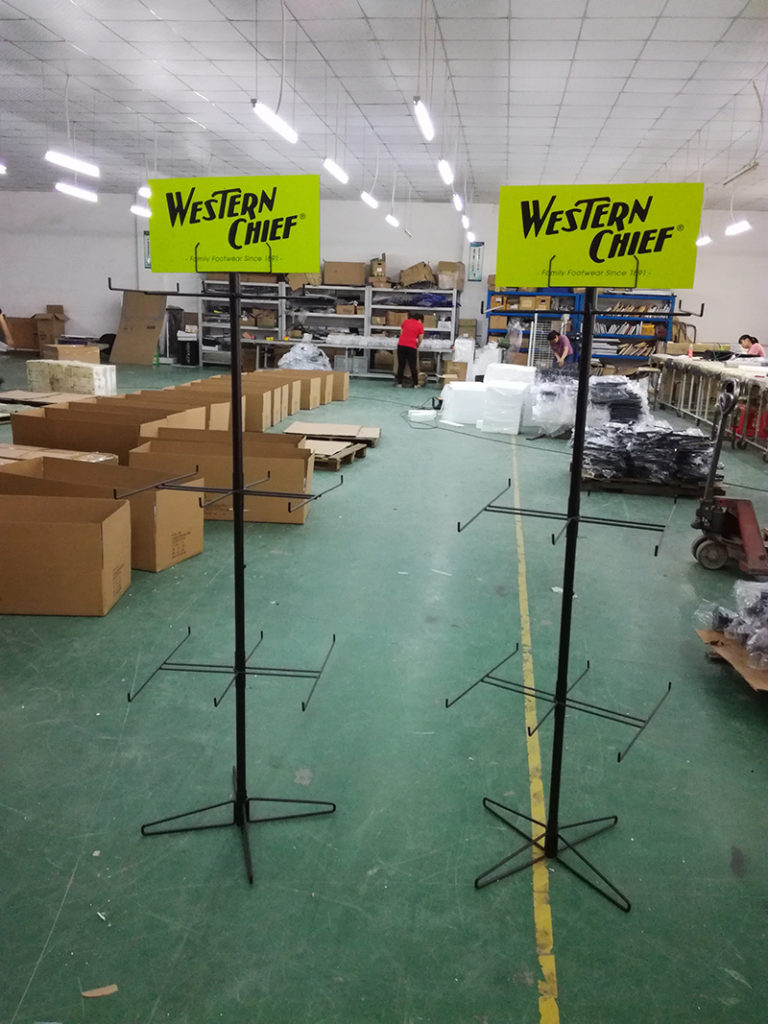 CASES
90% of customers come from Europe, America and Asia. Our well-known customers are world-renowned brands, including BRIGHTON, KORS, JANE IP, PICCADILLY and so on.
CASE 1
J Lottie is a famous Canadian design company for handbags and accessories. Find us online and ask about the design of a floor-standing display rack that can display both handbags and wallets. And each floor stand matches the requirements of the corresponding number of handbags or purses. The customer provided a table containing 10 different bags and their respective sizes and quantities.
Our team of designers put forward a preliminary design plan.
Add 4 shelves for large women's leather bags and clutches to the display cabinet
The tray is placed on the top for the wallet and purse.
Hook on both sides of the body, hang the bags with hands.
After the inspection, our customers need to show more handbags with hand-held parts in the preliminary review. Our design team gave two opinions on the design modification
There are hooks on all four sides, one hook can hang several bags, and the hook can be increased or decreased as needed during use.
According to the type and number of wallets, add compartments to divide the area on the top tray.
After the design was completed, we completed the production of 500 products for our customers within 15 days, which allowed our customers to sell more in the peak season. And booked the shipping to Toronto in advance. With good service and strong productivity, most customers have maintained good cooperation with us for many years.
CASE 2
K WELL remains at the forefront of the latest trends in cosmetic as one of the most innovative brands in EURO. Inquiry from us of Lipstick stand.
They ship their Lipstick samples to us to match the holes which inserted the lipsticks. Several shapes and sizes. Test the depth of the holes to ensure it will no fall down easily.
Than our designer team forward a preliminary design before making sample. We finished sample in 4 days to test several points below:
How depth of the holes request to ensure the lipstick will no fall down. Around 10mm.
Make the poster frame with two pieces acrylic—2 pieces acrylic with magnets, picture chan changed. Print paper picture than pasted direclty on one acrylic board. Clients prefer the second one.
Slikcsreen logo in gold or white for clients compare.
Finally our clients choose to make two orders. One with gold logo, another with white logo. Each set is individually packaged, and related product drawings are printed on the box, safe and high-end packaging Until now, this clients had order from us more than 4 years.
WHY CHOOSE US
Attention to Details
It's our attention to the small stuff, scheduling of timelines and keen project management that makes us stand out from the rest. We are creative, while keeping a close eye on the calendar and your budget.
Creativity
We bring our diverse background of advertising, design, branding, public relations, history story of your company. Give you the ideal sense and design effect
Material
Use Reliable Resoureces. Choose stainless steel with better corrosion resistance, heat resistance, low temperature strength and mechanical properties; good hot workability such as stamping and bending. Purchase Crystal-like transparency, light transmittance above 92%, soft light, clear vision, and acrylic colored with dyes also have a good color development effect.
Pricing
Our prices are competitive and fair. There are no surprise bills. Any unexpected or additional expenses must be pre-approved by you. That's how we would like to be treated, and that is how our clients are treated.
Work with us, and you'll work with seasoned professionals – vigilant of deadlines, and committed to exceeding client expectations.