Custom Acrylic Display Fixtures And Organizers For Retail
Acrylic is a widely used recyclable material. It's solid, resistant to corrosion, and has excellent plasticity and light transmission; that makes it can be processed into delicate fixtures like logo blocks, showcases, display cabinets, sign holders, jewelry display trays, and eyewear display stands.
The clear acrylic display fixtures can create a space illusion in a narrow environment to people's attention on the displayed products. Their simple designs are also easy to match your store decor. Besides, acrylic display fixture is light, breakage-proof, and has a smooth surface that can protect your goods better. They are also more durable than usual plastic ones, nearly not turning yellow over time.
In summary, acrylic display fixtures are the best choice for retailers like phone stores, sports supplies stores, shoe stores, eyewear stores, and jewelry stores.
Soonxin has over 10 years of experience focused on customized high-end acrylic display fixtures. Here, you can find the product from the rich catalog most satisfy your goods, and we also accept custom designs. Soonxin will always provide the best quality, service, and most favorable price.
Acrylic Logo Blocks
The simple acrylic logo block is an effective way to promote and sign, and it's low-cost. The blocks can be customized into various sizes, colors, and styles. Through printing in different methods, it can also get unique visual effects.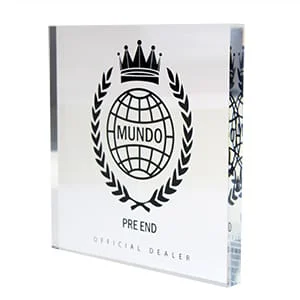 Logo Screen Printed Acrylic Logo Block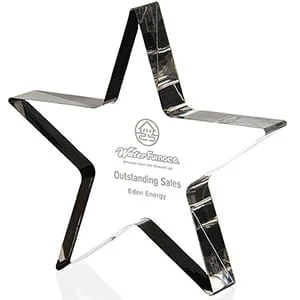 Clear Pentagram Acrylic Award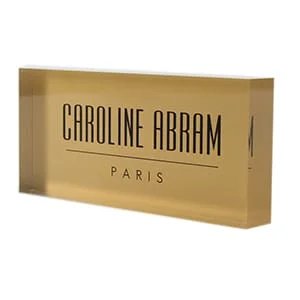 Clear Brown Acrylic Brand Block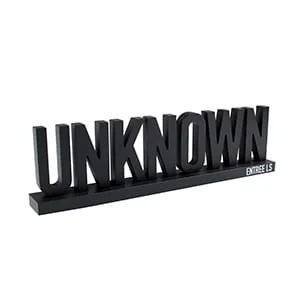 3D Free Standing Acrylic Letters
Acrylic Sign Holders
Acrylic sign holders are usually placed on the counter to display goods' information and advertising promotions, and they can also be taken as menus in cafes and restaurants. They are light, take up less space, and the ingenious design can help you swap the message inside quickly and protect them well. Some items can add LED lights to catch customers' eyes better.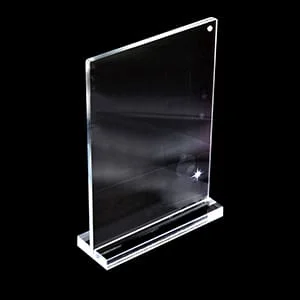 Side-loading T-style Acrylic Sign Stand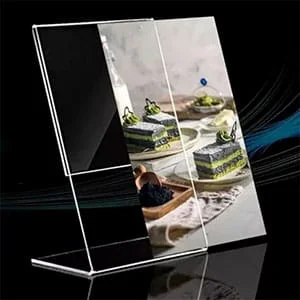 Slanted Clear Acrylic Side-loading Poster Stand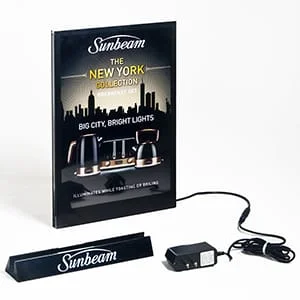 T-style Acrylic Poster Stand With A LED Panel
A-style Clear Acrylic Book Tabletop Holder
Acrylic Organizer
Due to the transparency feature, acrylic is the best material for making organizers. It can store and organize your stuff well and display them simultaneously. For sneakers, figures, and antique collectors, acrylic cases will be a better choice than glass ones. Because they are impact resistant, and once unfortunately, they get broken, they won't create sharp chips and hurt your precious collections.
3 Tiers Acrylic Tabletop Organizer
Simple Office Supplies Organizer Stand
Simple Style Acrylic Tissue Box
3 Ties Figures Display Box
Acrylic Eyewear Display
The acrylic countertop eyewear racks, display ladders, and floor-standing cabinets for eyewear stores. The solid body can display multiple glasses at the same time for customers better contrast and pick. Some items have mirrors and lights, that help customers preview their wearing effect. The ones with pop-poster can also help you promote your new products better.
Slant Acrylic Spectacle Display Tray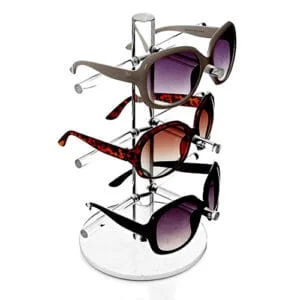 Countertop Rotatable Acrylic Sunglasses Display Rack
Rotatable Spectacle Display Rack With Logo Sign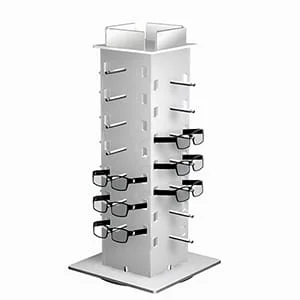 4 Sides Glasses Display Tabletop Tower Rack
Acrylic Jewelry Display
The acrylic display fixtures for jewelry like watches, earrings, rings, necklaces, and bracelets. The low-hardness acrylic won't damage your precious jewelry, and you can line velvet for better protection and create a noble feeling. Some items can add mirrors, lights, and custom logos for promotion. Quickly place them on your counters and showcases to catch customers' eyes.
Jewelry Combine Display Pop-up Stand
Multiple Round Plates Display Rack For Rings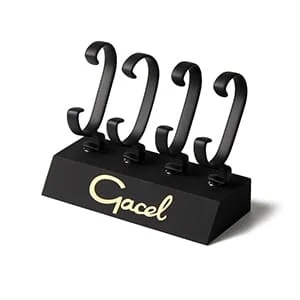 Insert-type Acrylic Watches Display Holder
Insert Block For Single Ring Display
Acrylic Cosmetic Display
Customizable acrylic cosmetic displays – from POP stands to lipstick sets, also the organizers for makeups, elevate your store's merchandising and brand famous!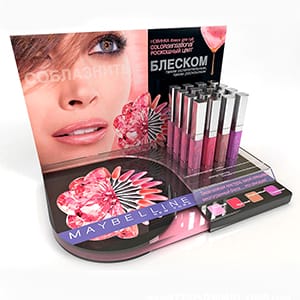 POP Brand Lipstick Promotion Stand
POP 6 Colors Foundations Display Stand
Tabletop Acrylic Versatile Cosmetics Display Box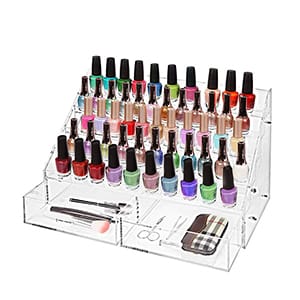 Clear Acrylic Tabletop Nail Polish Organizer
Get The Product Catalog
Or