Acrylic Display Cases And Boxes For Organizing Collections
Collectors of figures and sneakers always love using clear acrylic cases to store and display their precious collections.
Our acrylic display cases are made from high-quality material, with high transparency, durability, steady and dustproof features. Although its transparency is not as good as glass, it makes little difference for you to appreciate your collections. More importantly, acrylic is stronger than glass; it won't be broken when it falls from a standard height. Even if it gets a brutal shock, it will not break into sharp pieces like glass, which may hurt your treasure. What a great protector!
Assuming you are a retailer, you can also custom the acrylic display boxes from us, with a suitable size, thicker and stronger. With them, you can stack and assemble a display wall, and better protect and organize your collections or products. For a flower shop, an clear acrylic box is also a kind of perfect packaging.
2 Tiers Acrylic Figures Case With Lighting Set
10″ W x 17.7 " H x 6″ D
Acrylic Sneaker Display Box
12″ W x 12″ H x 12″ D
Heart-shape Acrylic Flower Box
3.35″ L x 2.95″ W x 1.57″ H
Clear Acrylic Model Display Case
12.75″ L x 7.25″ W x 7″ H
Custom Colors Acrylic Display Boxes
5″ L x 5″ W x 5″ H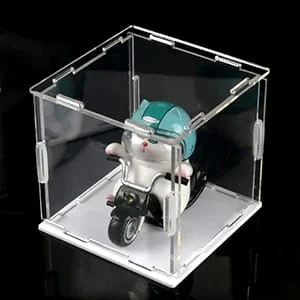 Small Acrylic Display Box For One Figure With Hinged-lid
6″ W x 6″ H x 6″ D
4 Tiers Flip-type Figures Display Case
14.2″ W x 14.2″ H x 3.5″ D
Clear Acrylic Ring Box With Hinged-lid
5″ L x 4″ W x 2″ H
Custom Shoe Storage Box With Lid
7.99″ D x 12.52″ W x 4.25″ H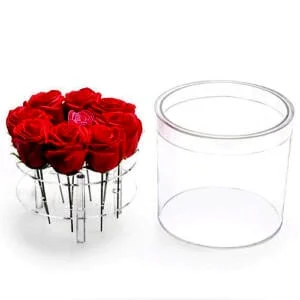 Small Acrylic Flower Canister With Holder
Diameter 3 inches, height 4 inches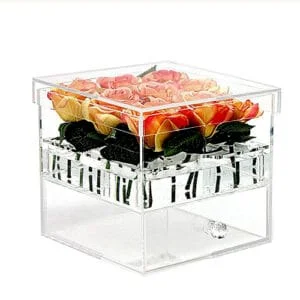 Acrylic Case For Keeping Flowers Alive
8.27″ L x 6.1″ W x 8.27″ H
Clear Acrylic Sneaker Drawer
13″ L x 7.8″ W x 4.7″ H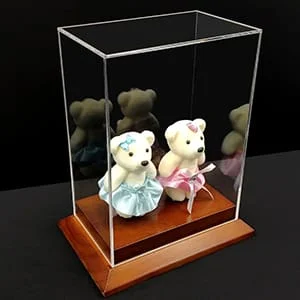 Figures Display Case With Wood Base
9″ L x 6″ W x 12″ H
Small Stackable Acrylic Mold Display Case
7.8″ L x 3.5″ W x 7.8″ H
3 Ties Figures Display Box
13.8″ W x 12″ H x 2″ D
Acrylic Flower Display Wall Fixture
8 x 6 x 0.4 inches
Acrylic Flower Case With Mirror
3″ L x 3″ W x 3″ H
Small Acrylic Box With Lid For One Flower Display
8″ L x 5″ W x 16″ H
You may also be interested in
Send Your Required Now!
Or