Acrylic Eyewear Display Stands | Sunglasses Racks | Organize Trays | Spectacle Cabinets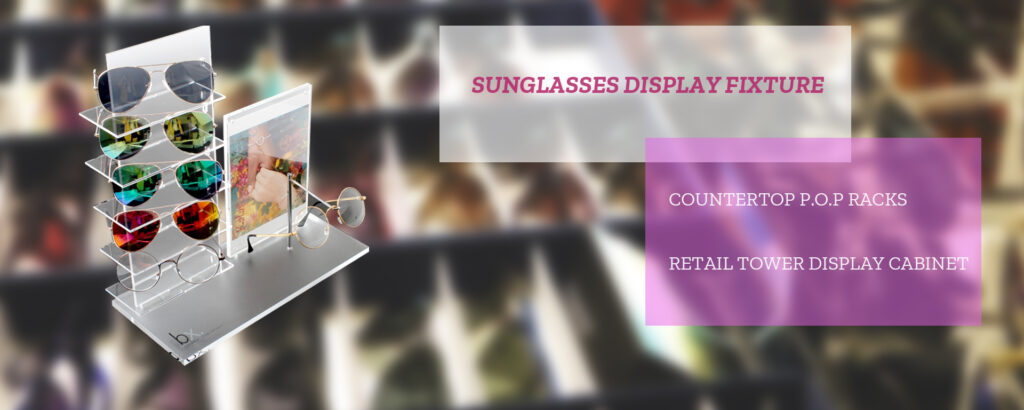 Spectacle stands, sunglasses cabinets, and other eyewear display fixtures are necessities for an optical retail store. All these fixtures are typically made from acrylic because it's light and low-cost. The most important thing is that acrylic looks like glass; it's transparent. For a spectacle store, using clear acrylic display stands can make the whole decor more uniform.
Soonxin is a professional display fixtures wholesaler from China. We provide various acrylic eyewear display racks and floor-standing cabinets. The outstanding designs and high quality are always approved by many customers.
Besides the rich catalog, we also provide custom design services to match every spectacle store decor style better. Once you think that acrylic is too common and want some special, we also supply some awesome metal eyewear display fixtures.
Acrylic Countertop Eyewear Display Fixtures
Countertop acrylic eyewear display stands are our primary products. They include eyewear POP display stands, rotatable sunglasses racks, stair-shaped glasses holders, spectacle organize trays, etc. They have smaller sizes; you can match different styles according to your need to better attract customers' eyes.
Features
Made from high-quality acrylic, the transparent material attracts customers' eyes more
The elegant appearance and simple style are easy to match with different store decor
Durable and anti-corrosion
Take lesser space, suitable for every counter, even the small ones
Light and easy to clean
You can print your brand logo on the display stands, add posters and signs, for promotion and guide consumption
Some items' height and angle are adjustable for a better display effect
Low cost, most favorable price in bulk purchase
Acrylic is a recyclable material and it's friendly to the environment
POP Eyewear Display Stands
Acrylic POP eyewear display stands with posters. You can use them to promote your products and brand better. And you can insert a price tag in it for convenient customers to choose from. They are typically suitable for displaying 1 to 5 pairs of glasses.
Countertop Sunglasses Racks
Countertop sunglasses racks and towers can display multiple glasses at the same time. The rotatable design helps customers more conveniently compare and choose.
Spectacle Organize Trays
The acrylic trays for organizing eyewear are typically set on the counter or in it. You can insert a price tag for each item.
Floor-standing Eyewear Display Cabinet
The floor-standing eyewear display cabinet has a larger size than the countertop one, but it can display and organize more spectacles. Customers can compare and choose each product more easily. And the light and mirror settings can help customers better preview and appreciate the wearing effect.
Features
Can add universal wheels at the bottom for easier moving and organizing
Lightweight, save freight and easy to assemble
Can add lights and mirrors, attract customers' focus and convenient for them on choosing
Display more glasses, and can be combined use with eyewear display stands and trays
Adding a custom poster on it for a better promotional effect
FAQ
Do you only sell standard products?
No. Most products are made to order. We have the capability to design and produce custom displays to present your product and represent your brand.
Is it possible to have my logo on the product?
We hope you know that our company, perfectly supports customized logo service.
Do you only make a display from acrylic material?
In addition to our main acrylic display stands, we also make stainless steel and other metal display stands, including spectacle frames. You can refer to our metal spectacle display frame page. In addition, we can also make comprehensive materials such as wood material plus metal plus acrylic.
Do I need to pay the sample fee?
Yes, a proper sample fee is required. This fee will be refunded to you when placing the order.
Is the size of the glasses support frame only suitable for adult glasses?
If you buy regular models, most of them are for adults. But you can choose the stair-shaped holders to fit any glasses. At the same time, it can be customized for children's glasses frame styles.
How about the minimum order quantity?
Small quantity or one piece test both available. Please contact us for further design detail.
Get The Product Catalog