Custom Metal Poster Stands For Promotion Display
For over 10 years, hundreds of retail stores, corporations, restaurants, and institutions purchased standard and Custom Poster Stands from Soonxin Display Inc. We attribute our success over the years in the retail display stand holder industry to excellent customer service, high-quality products, and the most favorable prices in the industry.
Poster Displays are an affordable and effective way to deliver messages. Suppose you are running a restaurant; it will be a great idea to show your customers the menu on a lovely tabletop sign holder. And you can easily replace the menu every season. For retail stores, setting up a floor promotion poster stand on the mall's path can also help to increase traffic and promote your brand.
Metal poster stands manufacturing and wholesale is a competitive industry. In a world where outsourced customer service is quickly becoming sub-par, we decided to take a different approach. Besides offering quality products at a competitive rate, we pay more attention to professional customer care. We provide whatever you seek; you have our promise.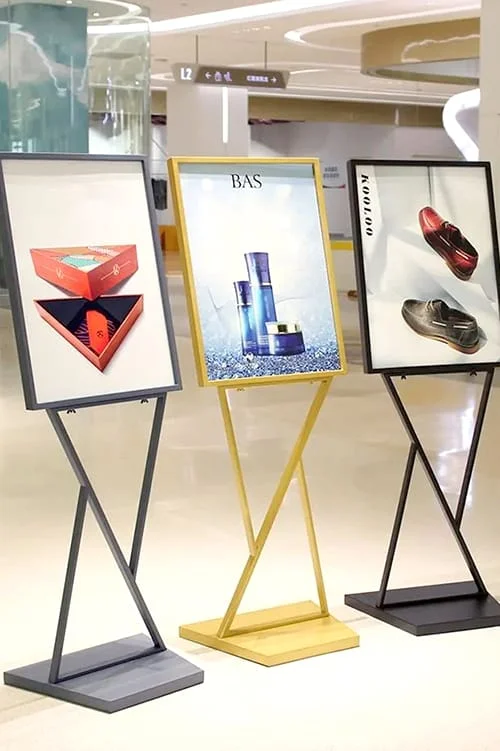 Tabletop Poster Stands & Sign Holder
Small tabletop poster stands and sign holders are typically displayed for the counter service, open booth, and cuisine menu. They won't take up too much space but can deliver enough information. Simple, portable, easy to assemble and place are their features.
Compared with plastic, metal small poster stands and sign holders are much more durable and sturdy. Especially for the outdoor cafe, you don't have to worry about it blowing down by the wind and affecting your guests' mood. The unique metal gloss like gold, silver, and bright black can also express a noble and elegant sense. Of course, you can ask for customizing, adding plastic or acrylic assembly on the metal base.
Applications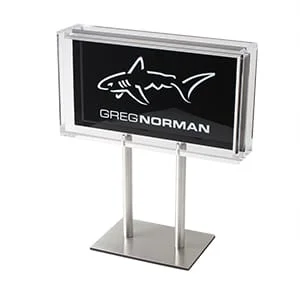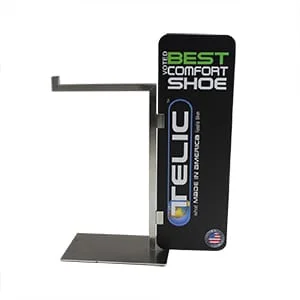 Floor Standing Poster & Bill Board
Large poster stands and billboards can catch more eyes and express information more clearly. They are in various types for satisfying different promotion demands. Ones that easily replace posters continually, protect the posters longer, lightweight, easy to assemble and disassemble, display multiple signs simultaneously, etc.
Many of our customers are from megastores, malls, and hotels. Every time they expand a new region, they will bulk purchase large metal poster stands and billboards from us. Our products are durable, easy to maintain, and good for long use. Even though in an outdoor environment, our products can always keep glossing; the high-precision jointed acrylic panels also protect the prints inside well. Besides, you can customize different finishes coated to get a more unique appearance.
Applications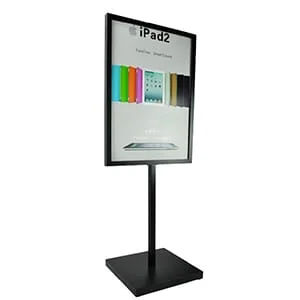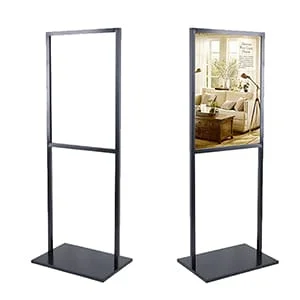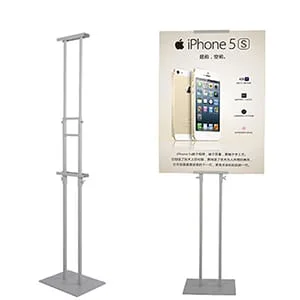 Finish Options
FAQ
Can I put my logo on the stand? And what could I do about it?
The poster stands we offer are brand new without any logo on it. However, you could choose to print your own logo on it by Laser print, Silk Print, or Etching. We suggest Laser Print for its excellent effect at a low cost. Just send us a picture of your logo and the position where you want it to be.
Should we pay for the sample if we want it for checking? And what if we place an order?
An Additional sample charge is necessary if you would like a sample for checking. However, the sample charge will be deducted from the order amount after you place a bulk order with a quantity of 100 PCS or above.
What is the minimum order of these store displays?
Yes, our company mainly deals with bulk purchases, but if you insist on buying one set, or you just need one set, we would be very likely to make the MOQ as 1 set for you.
Can we customize my own POP store fixture?
Yes. You can tell us your details requirements for customizing your own display stand. Then we will design for you.
What are the standard poster frame sizes you have?
It is only natural that standard poster frame sizes are matched to standard poster sizes, for countertop ones, usually in A4, A5, and A3 sizes. These have evolved over the years based on the size of movie posters, concert posters, and large-format art prints. The floor standard poster frame sizes are listed below. (But we can always customize if necessary)
11"×17"
11 3/4" x 36"
18"×24"
22"×28"
23"×35"
24"×36"
27"×40" (so-called "One Sheet" or standard movie poster frame)
You may also be interested in
Get The Product Catalog
Or