Steel Metal Table Hat Stand, Cap Shelving Floor Standing
Custom Hat Stand Rack for Sale
Retail hat display fixtures are an essential component for organizing, promoting, and protecting, millinery. Attractive purpose-made retail hat displays are the key to effective in-store marketing and sales.
Purpose-made hat display fixtures make merchandise accessible, visible, and promote sales. At SOONXIN, we carry a wide range of display fixtures to suit the requirements of hat retailers. Like hat displays, revolving hat racks, hat tree stands, table hat stands, and more.
Single hat display stands for premium merchandise that requires an adjustable height to catch the eyes. Display quality millinery with extra care to avoid misshaping and stretching. Valuable stock requires a lower density display to focus attention on quality details. Details which may be lost in an overcrowded display. Plus, an adjustable height stands to position your display with perfection.
For fast-fashion oriented items including baseball caps, women's hat, head wig holder, etc. we carry a number of options to suit both your retail environment and your budget.
All the hat cap storage displays in SOONXIN can be customized in Size and Colors.. We hope you find a suitable display for your business, please contact us for Catalog.
Stainless Steel Single Hat & Wig Stand Desktop-Adjustable Height, Table Top
Chrome Plated Dome Shape Hat Display Rack
Adjustable Height: 350- 550 MM
Base: 100*160 MM
Dome Dia: 150 MM
Round Platform Beanie Sun Hat Rack
Base: 120*120 MM
Min height: 250 MM
Max height 420 MM
Circle Top Diameter 150 MM
Mannequin Head Hat Wig Props Stand
– Material: Iron
– Head Circumference: Approx.530 MM/20.87inch;
– Head Dimension: Approx.250*190 MM/9.84*7.5inch;
– Bottom Diameter: Approx.185 MM/7.3inch;
– Height: 500 MM/19.69inch (can be adjusted up to 70cm/27.56inch).
Black Antique Wire Wrought Iron Hat Stand
Base Dia: 150mm
Holder Dia: 140 mm
Total Height: 400 mm
Single Adjustable Hat Cap Hair Wigs Styling Holder
Chrome Base: 165 * 135 MM
Adjust Height: 350-550 MM Dome Dia 150 mm
Black Metal Dome Shape Design Hat Exhibit Display
Material: Iron Or Stainless Steel
Surface finished: Matt Black
Dome Dia: 150MM
Round Base Dia: 140 MM
Height from 300 mm up to 410MM.
Bracket Hat Display Props With Circle Base
Base Dia: 160 MM
Adjustable height 35-55 MM
Oval Part 140 MM.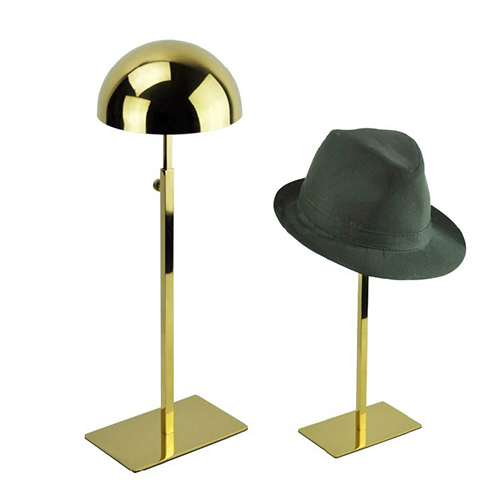 Shop Cowboy Hat Stand Semicircle Top
Adjustable Height: 350- 550 MM
Base: 100*160 MM
Dome Dia: 150 MM;
Eva On Bottom
Titanium Full Adult Size Mannequin Head Hat Display
– Material: Iron
– Head Circumference: Approx.530 MM/20.87inch;
– Head Dimension: Approx.250*190 MM/9.84*7.5inch;
– Bottom Diameter: Approx.185 MM/7.3inch;
– Height: 500 MM/19.69inch (can be adjusted up to 70cm/27.56inch).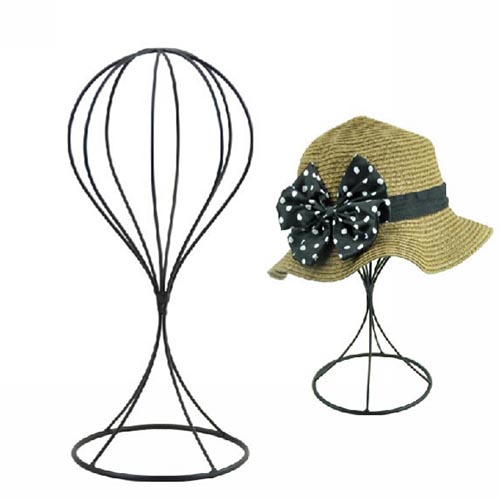 Short Cut Design Hat Rack No Leg Store Front
Slender Waist Charm Likes a sandglass; Top Dia 140 mm/5.5 inch; Base Dia 150 MM/5.9 inches, height 330 mm/13 inches.
White Lightweight Spherical Top Hat Holder
Base Dia: 150mm Holder Dia: 140 mm Total Height: 400 mm.
Mirror Gold Stainless Steel Hat Display Heart Base
Polish Gold Base: 165 * 135 MM
Adjust Height: 350-550 MM
Dome Dia 150 MM
Metal Hat Rack with Heavy Base
Base Diameter: 80 MM
Adjustable height: 300-450 MMSemicircle Top Diameter 138 MM
EVA base wad skid resistance.
Rose Gold Steel Metal Hat Holder For Sale
Adjustable Height: 350- 550 MM
Base: 100*160 MM
Dome Dia: 150 MM
Rose Gold finish
Features of Single Hat Rack Table Top
Designed to display a single hat at varying heights
This adjustable height can store hats and wigs with long lengths.
The metal dome at the top is designed to hold hats, wigs, beanies, and fedoras, and other headwear with their natural shape.
The Base can be customized different shapes like heart, circle, square or rectangle, etc. Custom large base according to your request.
Custom size and shape of the top to suitable for adult or kids hats, wigs.
Good for storing and displaying hats and wigs in your home or store.
EVA square base with a non-slip weighted steel finish.
Stainless Steel Color Swatches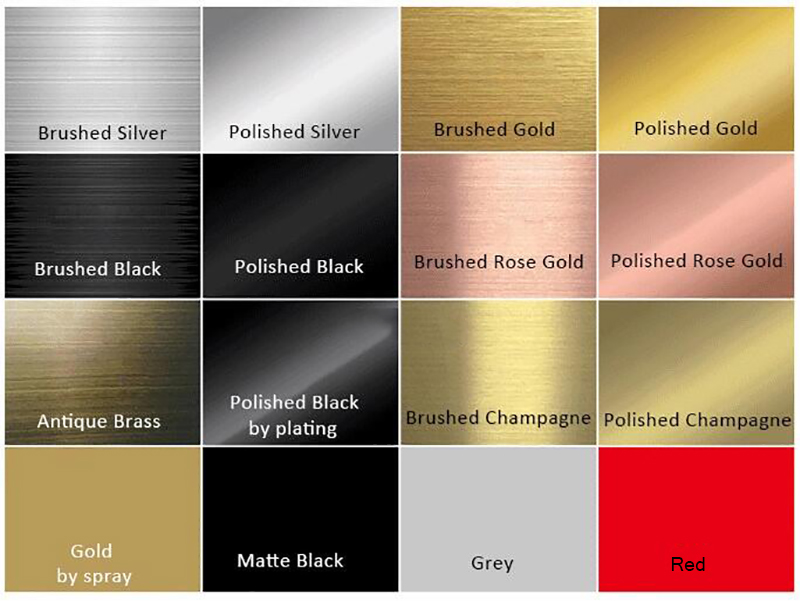 Single Hat Stand Common Application Scenario
Preserve the shape and beauty of any hat or wig with this display stand. Most place on table or shelve.
Multiple Floor Hat, Cap Display Rack, Storage & Organization
Practical 4 Layer Wire Metal Hat Display
Base Dia 550 mm, height 170 mm (20.75 x 20.75 x 67 inches)
Boutique 6-Tier Hat Display Rack
Height: 1600 mm,
accept logo customized by printing or laster
Feature with Sign holder on top
Powder Coating 3 Layer Hat Organizer Display
Feature: 3 Layer , Knocked-Down , Spinning, Customized Size
12 tiers Floor Stand Retail Tall Baseball Cap Organizer Rack
H 74" W 12" D 15"
Black Metal Cheap Hat Display Floor Standing
Each Shelf width around 700-750 mm, height 1650 mm.
Multiple Dome Shape Hat Standing Black Finish
350x350x500mm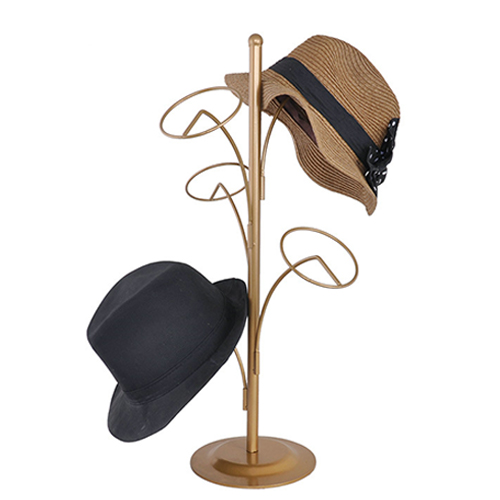 Multi Women Hat Tree Display
Base Diameter 160 mm
heiIght 640mm
Multifunction 4 tier Metal Ladder Cap Hat Stand
20″H x 16″D x 9¼"W inches
Logo Customized.​
Features Of These Multi Floor Hat Rack
Affordable and Durable. Not every baseball cap rack and hat display rack is made the same. Our line of hat displays and hat racks for baseball caps are carefully constructed from durable materials and welded together to last a very long time, we guarantee all of our hat displays and baseball hat racks will perform for the function they were designed and represented for. So most of the store fixtures will match your best budget.
Baseball Cap Displays And Towers. Our baseball cap racks, also referred to as baseball cap stands and hat stands, are available in countertop and floor standing styles. Creative versions attract more customers, make shopping convenient, and saves you precious floor space, while our counter cap towers will save space on counters where space is limited. Hat racks for baseball caps are also an ideal way to showcase novelty hats.
Men And Women Hat Display Racks. Both men and women hat display racks are available that will accommodate any style of hats. Available in Modern & Contemporary Hat Rack includes countertop, revolving,and floor styles.
Freestanding hat rack for retail display, Boutiques, entryway, hall or waiting rooms, entrry hall, etc.
All items are Detachable Flexible: Some assembly required, A simple installation manual will be attached to each set of products when packing.
Material: Stainless Steel or Iron Metal powder coated. Any color to customized.
HS Code: 73269090
Moq: Part of items in stock request 1 pcs as a minimum order. Others normally 50pcs.
Multi Floor Hat Cap Store Fixture Rack Common Application Scenario
Make your retail hat and wig displays truly stylish with this modern display rack. The sturdy metal structure keeps your collection of hats and wigs safely stored, while the black finish brings a touch of modern elegance to your space. dome-shaped holders to show off hats and wigs without compromising their shape, and take advantage rotating tiers to easily access the exact hat or wig you (or your customers) need. With this stylish metal display stand in your store, you'll have the perfect combination of modern style and convenient storage to best show off your featured hats and wigs.
FAQ
Q. Can I put my logo on the stand? And what could I do for it?
A. The poster stand we offer is brand new without any logo on it. However, you could choose to print your own logo on it by Laser print, Silk Print, or Etching. We suggest Laser Print for its excellent effect at low cost. Just need to send us a picture of your logo and the position where you want it to be.
Q. Can the diameter of the cap holder be customized?
A. Yes, Different sizes are used separately for children and adults.
Q. Are the floor standing can custom the colors.
A. Yes, sure. We can make the iron display with powder coated color you request.
Q: Is the surface of the product easy to scratch?
A. For stainless steel or chrome-plated silver products, even scratches will not be easily seen. For other colors such as black, white, etc., if it is not scratched by sharp objects or can be done, it will not be easily scratched
Q. Do I need to bring my own installation tools?
A. Not required. For the cap holder of the desktop, we will provide a hexagon wrench, which is very simple to install. For floor-standing display racks, we will provide corresponding installation tools, usually a screwdriver. It is relatively simple to complete the installation work.
Q. Can a universal wheel be added to the bottom for easy movement?
A. Yes. It is possible to add universal wheels to the large hat rack on the ground. Before adding, please contact us to analyze whether the size and structure are suitable for adding, or recommend the styles that can be added.
Related Products