Metal Hat Display Stand | Wig Rack | Cap Shelving | Beanie Holder
Soonxin provides various metal hat and wig display stands. Whether you are a furniture seller or running a retail store, you can always find a fittable product here. For tabletop use, floor-standing, height-adjustable, rotatable, single or multiple holders, you can even require to customize design.
Most of our cap display racks are made from 304 stainless steel. They are durable and have an excellent weight capacity; they won't be out of shape even after a long time of use. You can also get a better display effect and catch customers' eyes by customizing the finish, like matt, chrome plated, and rose gold.
Stainless Steel Tabletop Single Hat & Wig Display Stands
Small tabletop hat and wig display stands are typically for retail counter and store showcase use, or setting in the cloakroom. These racks have a perfect head-shape model, spreading out the hats and wigs so that they won't collapse and get a better display. The support angle and height are adjustable, the well-designed specific gravity and skidproof base let them won't fall down. Some wire-made types are popular because of their modern and concise style.
Applications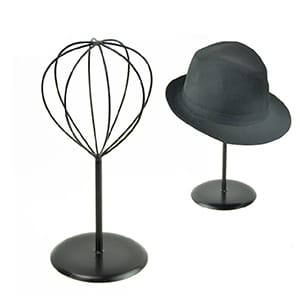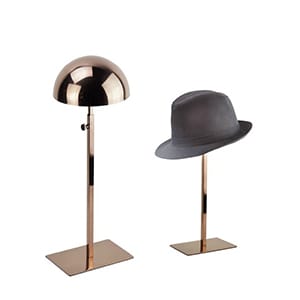 Retail Use Floor Standing Hat & Cap Display Rack
Large, multi-layer, floor-standing cap display racks are typically for retail store use. The high-precision welding joints make them very secure and durable. According to the combination setting, you can put over hundreds of hats on the shelving for display and let customers better choose.
The rotatable tower displays less hat but a better effect. And it's also more flexible, especially the types with wheels that can let you adjust their position better and save more space.
An elegant hat tree can match a noble temperament for bonnets and stetsons. You can also put on accessories like scarves and gloves on it for a promotion. For furniture merchants, these metal hat trees are suitable for separate sales.
Applications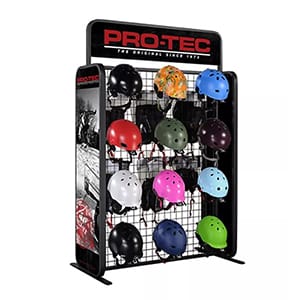 Finish Options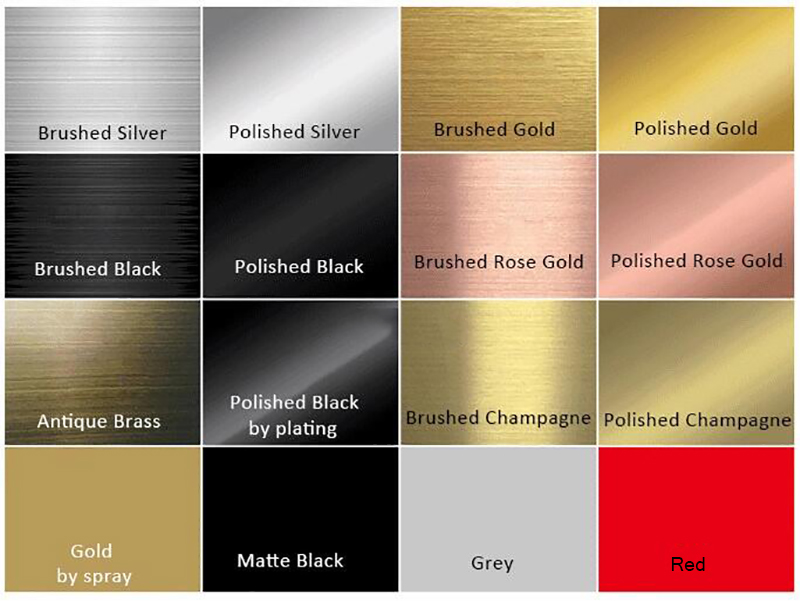 FAQ
Can the diameter of the cap holder be customized?
Yes. Different sizes are used separately for children and adults.
Are the floor standing can custom colors?
Yes, sure. We can make the iron display with the powder-coated color you request.
Is the surface of the product easy to scratch?
For stainless steel or chrome-plated silver products, even scratches will not be easily seen. For other colors such as black, white, etc., if it is not scratched by sharp objects or can be done, it will not be easily scratched.
Do I need to bring my own installation tools?
Not required. For the cap holder of the desktop, we will provide a hexagon wrench, which is very simple to install. For floor-standing display racks, we will provide corresponding installation tools, usually a screwdriver. It is relatively simple to complete the installation work.
Can a universal wheel be added to the bottom for easy movement?
Yes. It is possible to add universal wheels to the large hat rack on the ground. Before adding, please contact us to analyze whether the size and structure are suitable for adding, or recommend the styles that can be added.
You may also be interested in
Get The Product Catalog
Or