Last Updated on 6 months by soonxindisplay
When planning a retail space or collection layout, the display box is an important part. These simple boxes can provide a lot of utility to help display products while protecting themselves from potentially damaging external forces. Many consider buying a display box. If you are looking for a clean and safe way to show off the goods on your counter, but are unsure whether the glass display is suitable, then the acrylic display case is a perfect choice. Understand why acrylic is the best material for display boxes.
What is acrylic (plexiglass)?
Acrylic or plexiglass is a multi-functional plastic material used in various display furniture plastics and organization products. Retailers often choose this plastic due to its elegance and versatility.
Today, acrylic is most commonly sold in sheets of various thicknesses, but it can also be in forms such as rods or tubes and in styles such as frosted, mirrored, or non-glare. Acrylic is not only available in a variety of shapes and sizes but also can be molded and colored to suit specific applications. No matter which option best suits your needs, acrylic will provide a cost-effective and durable material for your project.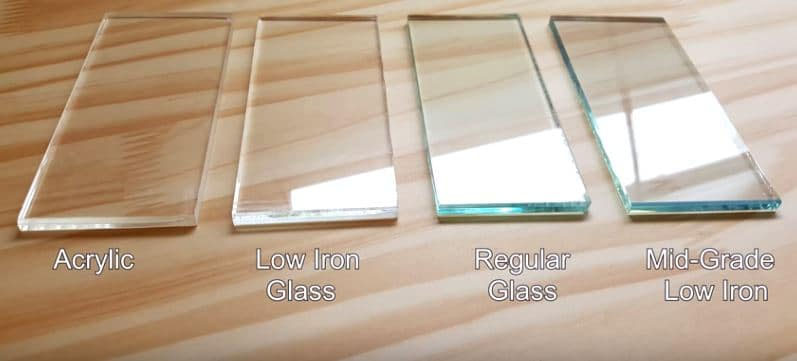 Acrylic and Glass Display Case
Regarding display materials, both acrylic and glass have advantages and disadvantages. For a long time, glass installations have been popular with retailers such as jewelry stores and collectors stores. Still, as retailers have discovered their applicability in various environments in recent years, the popularity of actual acrylic boxes has become popular worldwide—steady growth.
Advantages of acrylic over glass
Aesthetic quality
First, acrylic has better optical clarity than most forms of glass-the only glass that can match the visual clarity of acrylic is specially designed and bears steep marks. Glass also has a subtle green hue, while acrylic is inherently clear.
The glass's reflective quality means it is very suitable for light to shine on the product. Still, the reflection also produces glare, which blocks the view of the displayed items, which means that the customer must press his face near the display counter to get a clear picture. When using a perspex display case, you will not get reflected glare. The glass also has a slightly green hue, which can change the product's view slightly.
Safety Both acrylic and glass are highly durable, but if the worst comes to the worst, there is an accident, acrylic is unlikely to cause damage. Most glass will shatter if it receives a strong impact. This will hurt people, damage the situation inside the product, and clear the problem. The worst thing that can happen to an acrylic counter is that it will crack. Strength, The impact resistance of acrylic is 17 times higher than that of glass sheets of the same size, shape, and thickness. This means that even if your acrylic display box is ejected or hit, it may not break, so that it can maintain the typical wear and tear.
This strength also makes acrylic a better material because it is less likely to break during transportation. Many companies have learned that package movers and deliverymen do not always follow the rigid method of "fragile" labels. Glass boxes that are broken or shattered upon arrival are entirely useless and difficult to dispose of properly. Ordinary quality glass display boxes are much more expensive than high-quality acrylic enclosures. This is mainly due to material costs; freight can make these costs more significant. Besides, broken glass is more laborious than cracked acrylic, and the repair cost is high.
Lightweight
The advantage of acrylic is its weight. The density is only 1/3 of glass; it is 50% lighter than glass,
Plastic is the lightest first on the market, and it makes setup or transfers very easy, which means it is ideal for temporary displays. Second, it makes it more flexible. A Wall-mounted acrylic display device is more accessible. Third, the lightweight makes the delivery cheaper. For price-conscious buyers, shipping and handling fees for items as large as display boxes are a serious consideration.
On the other hand, acrylic display boxes are very lightweight, which makes acrylic the best choice for light or wall-mounted display boxes.
Color
Acrylic has good printability and spraying. The use of printing (such as silk-screen) and spraying processes can give acrylic products a perfect surface decoration effect. There are many types of acrylic sheets. Ordinary boards are divided into transparent boards, dyed transparent boards, milk white boards, and colored boards.
Cost-effective
Ordinary clear acrylic display boxes are much more expensive than high-quality acrylic enclosures. This is mainly due to material costs; freight can make these costs more significant. Besides, broken glass is more laborious than cracked acrylic, and the repair cost is high.
Therefore, acrylic plastic provides a reasonably priced, reliable, and eye-catching product that can meet all your display needs. If you are willing to buy acrylic products Like Clear Tray, Shoe Box, Jewelry Storage Boxes, and Display Case. please click HERE and choose according to your choice.