Dernière mise à jour le 3 semaines par soonxindisplay
Welcome to Soonxin Display Factory, where innovation meets craftsmanship. With our exceptional manufacturing techniques and diverse product offerings, we are committed to delivering metal display solutions that will captivate customers and elevate their brands. Read on to explore our fascinating production processes and discover the wide range of products we create.
Crafting Excellence:
At the Soonxin Display, we pride ourselves on our meticulous artisan approach to manufacturing. Every step of the process receives the utmost attention to detail, resulting in products that are not only aesthetically appealing but also durable and functional. Our skilled craftsmen employ cutting-edge technologies and time-tested techniques to bring out the best in each metal display rack we create.
Manufacturing Processes:
1. Conceptualization and Design for Metal Display:
– Our experienced design team collaborates closely with clients to capture their unique vision and translate it into striking metal display rack concepts.
– We utilize 3D modeling software to provide clients with realistic visual representations of their customized metal display racks.
2. Material Selection:
– We carefully select high-quality metals, such as stainless steel, aluminum, or wrought iron, to ensure the desired strength, durability, and visual appeal.
– Surface finishes, including powder coating, electroplating, or mirror polishing, are meticulously applied to enhance the product's aesthetics and protect against corrosion.
3. Precision Fabrication:
– Our state-of-the-art machinery, including laser cutting, CNC bending, and welding equipment, guarantees precision fabrication with seamless joints and flawless finishes.
– Each display rack undergoes rigorous quality control measures to maintain consistency and meet the highest standards.
4. Customization Options:
– We offer a range of customization options, including size, shape, color, and branding elements, to create metal display racks that perfectly align with the customer's marketing objectives. Below several designs like handbag stands, floor display, pop stand for cosmetic
– Our design team can incorporate innovative features such as adjustable shelving, modular components, or integrated digital metal display for enhanced functionality.
Product Categories:
1. Retail Metal Display Racks:
– Versatile shelving solutions for showcasing products in retail environments such as department stores, supermarkets, and boutiques.
   – Tailored designs for various merchandise, including clothing, electronics, cosmetics, and more.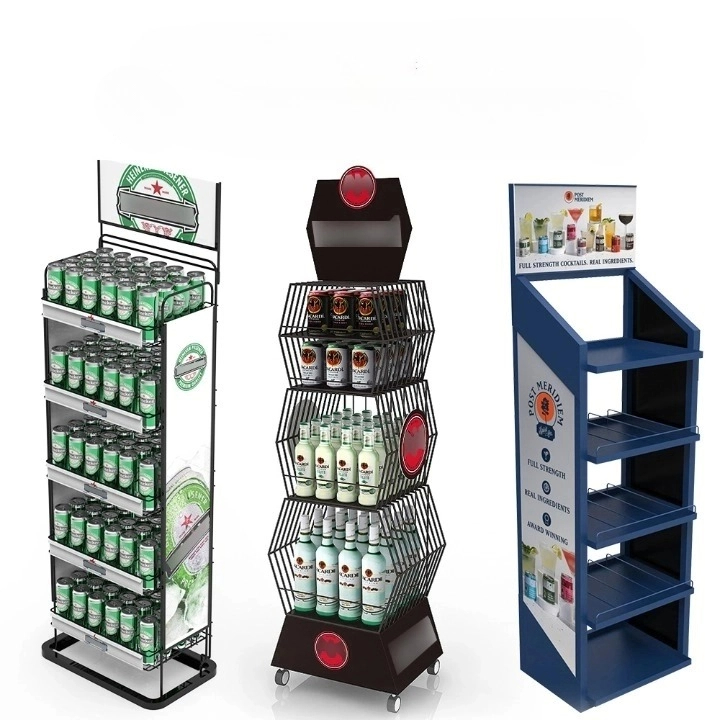 2. Exhibition Display Racks:
– Eye-catching and durable display solutions for trade shows, exhibitions, and conventions.
– Configurable layouts, modular structures, and high-impact graphics to attract attention and engage potential customers.Some counter displays below for ref: jewelry watch holder, shoe displays, eyewear risers.
3. Hospitality Display Racks:
– Stylish and functional display solutions for hotels, restaurants, and bars.
– Wine racks, menu display stands, dessert carts, and other customizable options to elevate the dining or hospitality experience.
4. Outdoor Display Racks:
– Weather-resistant and durable display solutions perfect for outdoor events, parks, and promotional activities.
– Stands, banners, or kiosks designed to capture attention and generate interest.
Conclusion:
In the vibrant world of metal display racks, the Soonxin Display stands out as a beacon of quality, innovation, and customer-centricity. With our unwavering commitment to excellence in manufacturing and a wide range of captivating product solutions, we are ready to revolutionize your brand's display experience. Collaborate with us today and let us craft the perfect metal display rack that will elevate your business and make a lasting impression.Connect Soonxin Display for Catalog.